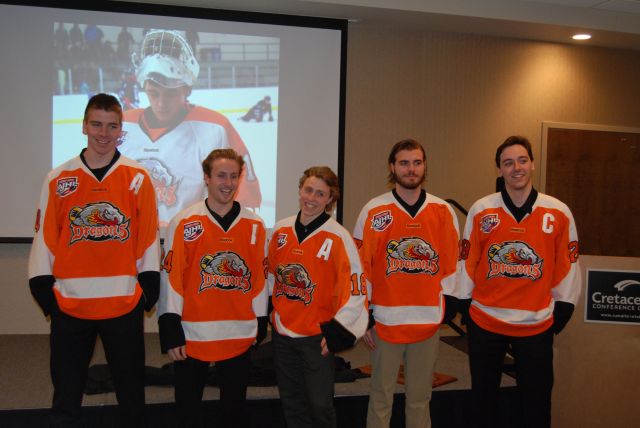 The Drumheller Dragons closed out the 2015-2016 season Friday evening (March 18) handing out the hardware at their annual awards banquet.
The evening began with the Volunteer of the Year award presented by Jason Blanke. The award was presented to Mitchell Pennington who has been volunteering with the Dragons for a few years working at the season ticket holder table.
Ava Harrington presented the second award of the evening. Harrington is a member of the Chinook Financial Junior Dragons fan club and presented the Chinook Financial junior Dragons Favourite Player award to goaltender Jonny Hogue.
Next, Assistant Coach Gavin Holcomb presented the community involvement award to team captain Connor Duncan. Dave Wood presented the Academic Achievement award next, to Dragons forward Connor Boyd.
Joe Faubion presented the Faubion Family Unsung Hero award to Dragons forward Braedan Salverda.
Dragons head coach and general manager Brian Curran presented the next set of awards. Boyd received the Hardest Working Player. The Most Improved Player award went to Andrew Kartusch. The Rookie of the Year award went to Levi Wunder. The Top Defenseman award was presented to Isaac Schacher. The Top Scorer award went to Wunder. The Top Playoff Performer award was received by Salverda and the Most Valuable Player award went to Jacob Schofield.
Marty Weymark presented the Jeff Hendricks Memorial Scholarship Award to Boyd.
"It is such an honor to be chosen as the recipient of the Jeff Hendricks Memorial Scholarship," Boyd told The Mail.
"The award means a lot to me because it is for something that I have always prided myself on. I have always played with all my heart and putting everything I have into every shift, so to be honored with this award for doing just that, has left me very humbled."
Boyd, who had 11 goals, 12 assists for 23 points in 60 games, said he was "happy with the way my season went."
"I felt I was able to play at a high level all season long and into the playoffs. I enjoyed being a shutdown player that could be trusted against other teams top lines," he said.
"I was able to attain a lot of my success and confidence from my line mates Scott Ivey and Keaton Holinaty. I absolutely loved playing with the two of them and I think we had a chemistry that doesn't come around too often," he added.