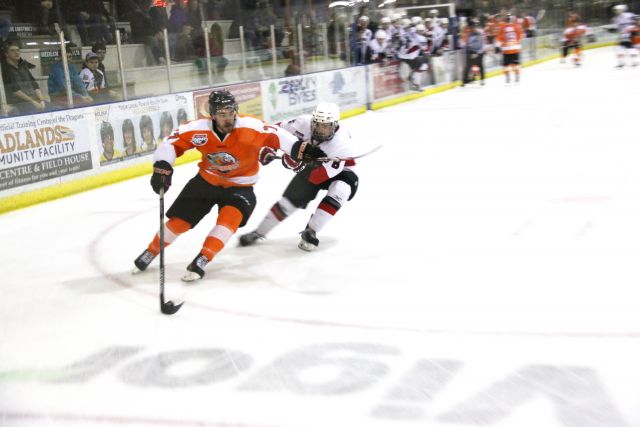 They are as ready as they will ever be this season as the Dragon begin the first round of playoffs this Thursday in Canmore.
The team, plagued with late injuries, put together a strong finish to the regular season, stringing together five straight wins, and then a close overtime loss to Camrose Saturday night. Coach Brian Curran says anything can happen in the playoffs.
"It should be a pretty even series, both teams have had good times and both have struggled at times," he said.
While there are still a few spots on their roster, which will remain empty, he likes how the team is playing.
"We've lost two players who are pretty well done for the year, so that doesn't help us at all, but we are so used to not having our full line-up, at the end of the day we have what we have, and in the last six games I like how we played."
Heading into the post season, he likes to keep routines and practices the same.
"You want to work on specific things that might work best against the team. If we make the right decisions, we're good, but if we make the wrong ones, we adjust," he said. "Everything is about tweaking things. You want to go in with the basic foundations you have had for most of the year so you don't get the guys thinking too much. You want to keep it as normal as you can."
He does have some areas of focus.
"We know we have to get better on our penalty kill, we think our power play is okay, but needs some work, so we are going to work on it all week. There is not much more than the coaches putting together the best match –ups and getting them ready to play."
"Playoffs have been notoriously about who are the teams that are hot going in, who is healthy, who is playing well, and then it comes down to who wants it the most," said Curran.
Games one and two are on Thursday and Friday night in Canmore. On Sunday, the Dragons will host the Eagles at 4 p.m.