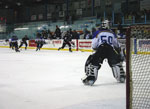 The hockey season is now at the half way mark for Drumheller Minor Hockey, but several of the valley's teams are holding strong in the standings.
Drumhellers Novice Tier 2 team is currently sitting in a tie for first in the Central Alberta Hockey League, with seven wins and only one loss.
On January 4, the Novices played in Brooks, taking home an 8-4 win. Tyler Cardamone opened the scoring for Drumheller and continued on to score a hat trick, and then one more late in the third to give Brooks a 4 point deficit.
Drumheller's Peewee Tier 2 Greene Construction Raptors have strong numbers with six wins and two ties as of their last game in Airdrie on January 4. The Raptors beat out Airdrie with an overwhelming tally of 13-2, following a 5-5 tie against Carstairs the evening before.
The Peewee Raptor's next league game is being played this weekend at the Kneehill Peewee tournament in Trochu.
Drumheller's Atoms are holding their own as well, with five wins and three losses so far, they are currently 7 points from first place.
Their next home game is on January 10, against the Bassano Outlaws.
With the season being young, the bantams and the midgets still have time to improve their standing.
The Tier 2 Bantams are in the bottom of the league with only three wins and five losses. Their last game was on December 20, when they lost 6-3 against Airdrie at the Drumheller Memorial Arena. The Bantam's next home game is against Brooks on Sunday, January 11.
Source for Sports Midget Tier 5 Raptors have been struggling to come up with the wins, coming up with a few more "W's" in recent games.
The team is sitting close to the bottom in their league, trailing by 16.5 points from the top spot. With two wins and four losses, the team shows promise and there is still hope with over two months left.
With Team Canada's gold medal win at the ICCF World Junior Hockey Championship against Sweden, hockey players across the country may have inspiration to draw from.