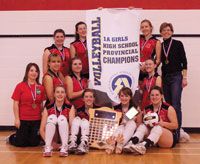 Six provincial titles in six consecutive years? Can't do much better than that.
The senior girls Standard Rams did just that over the weekend, beating St. Mary's of Taber in the 1A provincial volleyball finals, and securing a sextet of championships since 2003.
"The girls believed in themselve, believed in each other and worked very hard this season," said coach Susan Moncks. "They were true ambassadors of Standard School, the communities it serves and of Golden Hills."
Last weekend they were unstoppable all day Saturday in Provost, and the momentum started against the home team, St. Thomas Aquinas.
"Going into the semifinal we were a little bit concerned going against the hometown team," said coach Moncks.
"They were on top of their game in their semifinal."
Despite the very enthusiastic hometown crowd, the Rams qualified for the final in style.
Moncks said St. Mary's looked like the favourite going into the tournament. The two teams squared off earlier this season, and St. Mary's got the better of the Rams. Neither team knew the definition of backing down in the first game.
St. Mary's seemed to have control of the game until the 23rd point. That is when the Rams evened the score. They traded point until a couple of falters on the serve, and St. Mary's won 30-28.
The Rams regrouped, in the second game.
"By the 15 point mark, their coach called time out twice," said Moncks.
The Rams' 25-17 victory evened the count. In the final game, it was all Standard, leading 8-0 at the halfway point, and cleaned up 15-3.
"The girls took off from there. They figured them out and got after things," said Moncks.
There are now eight banners hanging at Standard School including two from the 1984 and 1985 seasons. Moncks was the coach for all eight championships.
"I have had some great players. All the kids have been very coachable, I can't say enough about them," she said.
And it looks like the legacy will continue. The Rams will only lose one Grade 12 player before next season, and Moncks says some top caliber athletes from Rockyford School will be entering the program next year, as well as Standard School junior players moving up.
Moncks also expresses her appreciation to all the parents who travelled with the team to cheer and to all our sponsors and community who supported us in our travels.
Trochu Valley School brought home the 3rd place trophy and the bronze medals.