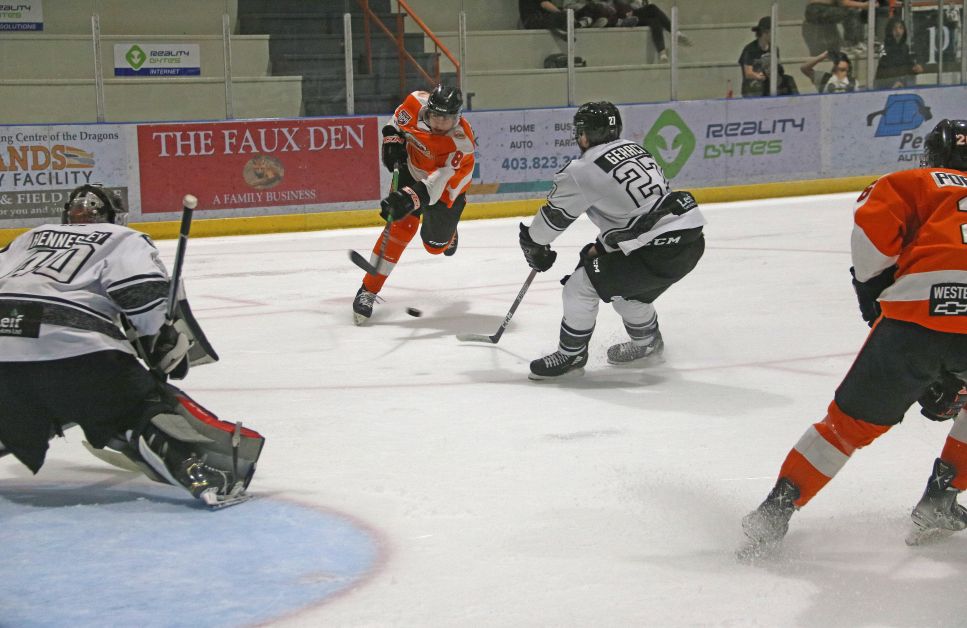 The Dragons are working their way back up the ranks of the Vittera South conference after racking four of a possible six points last week.
The Dragons had a slow start to the season, but last week appeared to be hitting their stride when taking on the Blackfalds Bobcats on Tuesday, October 4 at home.
The Dragons outshot the Bobcats 16-4 in the first period and Ty Daneault opened the scoring midway through the period. However, the Bobcats were leading 2-1 after one.
The Bobcats extended the lead by a goal in the second, but Dylan Glinski got the Dragons back in the swing at the midway point, and Vann Yuhas tied the game at 3 to end the second.
Glinski scored his second of the game less than four minutes into the third. Will Christian added another two minutes later, and Daneault scored his second to put the Dragons up 6-3 for the win.
The Dragons were on the road on Friday, October 7, to take on Canmore. The Eagles scored first, but Glinski tied it up early. From there, Canmore went on a run, pumping in five straight goals, despite being grossly outshot. Isaiah Peters scored for the Dragons 2:10 into the third, and Tate Yule added another with a minute and a half left in the game, but they couldn't keep up to the Eagles' clip, falling 8-3.
The Dragons had no time to rest as they were back on the ice on Saturday, October 8 to play the Calgary Canucks on the road. Ty Whitford put the Dragons up less than three minutes in, and Noah Danielson added a short-handed goal two and a half minutes later. Calgary rattled one in at the midway point, and the Dragons led 2-1 after one. In the second, Yuhas scored early, followed by Kai Matthew two minutes later, which carried the Dragons to a 5-2 lead after two. Calgary added one in the third, but it was too little too late as Drumheller went on to a 4-2 win.
This week the Dragons are heading north to take on Whitecourt on Thursday, October 13 and then Spruce Grove on Saturday, October 15. They are back on home ice on October 21.