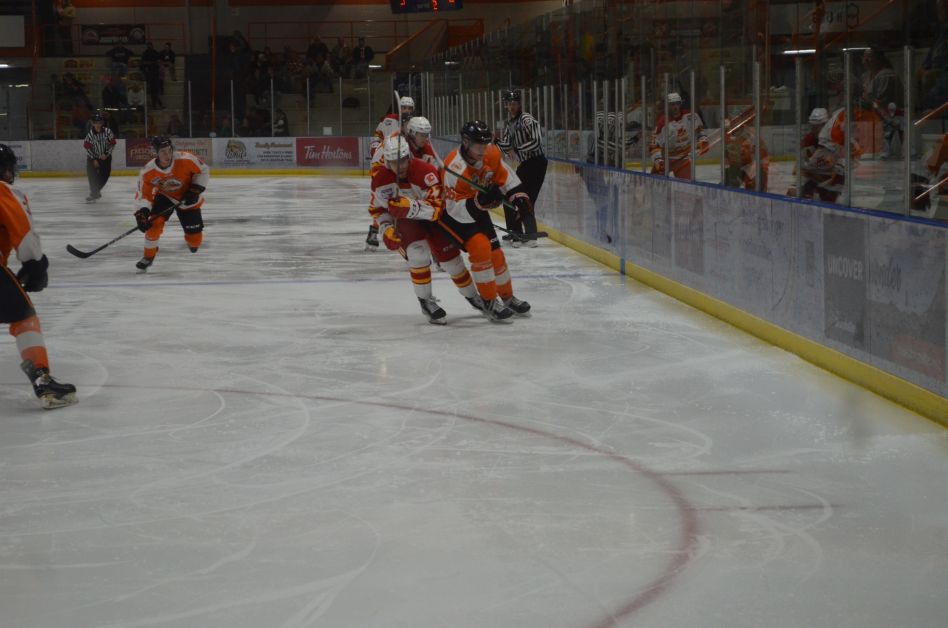 The Dragons have been playing intense hockey to start the 2022-2023 season, but it took four games before they found that elusive win.
The Dragons were in action three times this week. On Tuesday, September 20, they hosted the Camrose Kodiaks in front of 475 fans. The Kodiaks jumped ahead and by the end of the first period were up by two goals. It was a battle against a tough goalie as the Dragons peppered the Kodiaks with 48 shots. Sam Simard finally got one by, with two and a half minutes left. Camrose won 2-1.
On Saturday, September 23, the Dragons were back on home ice to take on the Calgary Canucks. While Calgary scored first, Adam Raesler, Hayden Prosofsky and Simard, had the Dragons up 3-1 after the first period. Calgary came back in the second with a quick goal, but Ty Whitford answered back. Calgary found the net once more to end the second with the Dragons up 4-3.
In the third period, the Dragons went on a roll with four goals; the first from Dylans Glinski and then Ty Daneault. Simard and Raesler each scored their second of the game. Calgary added one with 39 seconds left, as the Dragons went on to an 8-4 win.
On Saturday, September 24, the Dragons went to Okotoks to take on the Oilers. Okotoks led by one after the first period and added one more 3:21 into the second. From there the Dragons caught fire and Connor Poffenroth tied it up. Simard scored two to end the period up 3-2. This was confirmed after a scoreless third period.
The Dragons are in Blackfalds this coming weekend for the AJHL Showcase and will face Bonnyville on Thursday, September 29, and the Fort McMurray Oil Barons on Saturday, October 1. They will be back home on Tuesday, October 4 to play the Blackfalds Bulldogs.