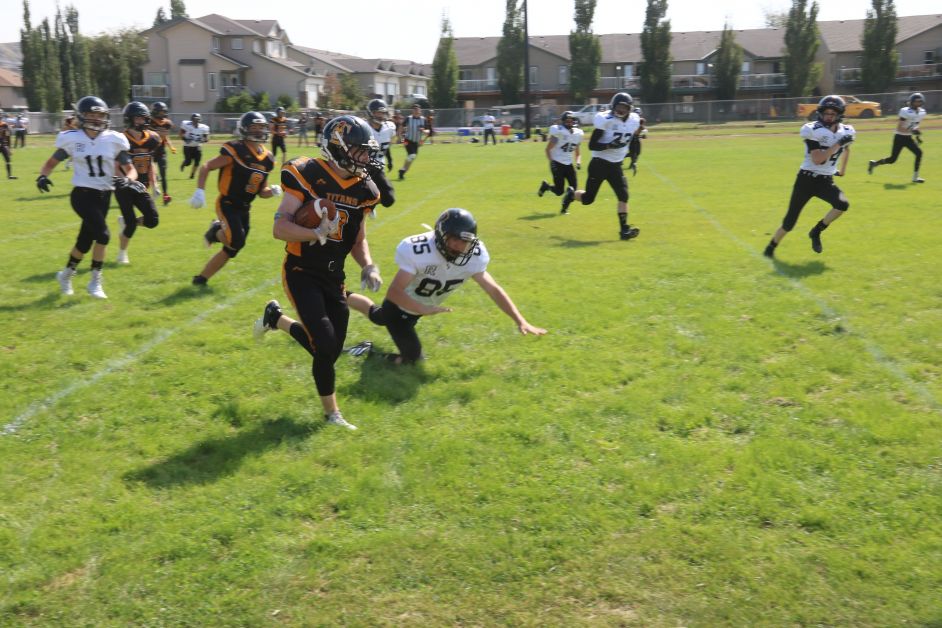 The Senior Titans started their season with a big win, taking on Cold Lake at their home opener.
The Titans hosted the Royals on Saturday, August 27. On their first offensive drive, they were able to make a 70-yard touchdown, however, it was called back. Despite this, it set the pace for the game and the Titans went on to a 32-0 win.
"It was a great start where we didn't have any turnovers on our side, no interceptions or fumbles, so it's super rare in your first game to have something like that," said coach Ken Fournier. "It just shows they're focused at practice and ready to play."
He said the Titans' defence was strong.
"Our defence was on fire, these guys were flowing to the ball well, they took care of the run and we had good coverage. We had a few breakdowns, but we got away with them."
Despite the lop-sided score, coach Fournier said Cold Lake fielded a quality team.
They just moved up from tier 4 to tier 3 a few years ago. They have great numbers, the football culture around that area is awesome, and it was great to host them," said Fournier. "They are in a league where they are super competitive."
It will be a unique season for the Titans as Fournier explains the Big Sky Conference, which the Titans typically play in, is on a hiatus to re-examine rules and league structure. This means the Titans will be playing an exhibition season and is able to schedule games with a variety of teams.
"This year all the teams in Big Sky will be playing independent, which means in order to go into provincials, we'll have to play-in to qualify. We will basically be playing the same teams that were in our league to qualify, so it doesn't really change anything," he said.
He says they are looking forward to playing a larger variety of teams this season and have a busy schedule laid out.
In order for our growth, we need to play some different opponents, we need to prepare for different games. When you prepare for provincials you need a variety of opponents, a variety of situations so we are trying to create that and we'll be using the exhibition season as that opportunity," said Fournier.
He likes the look of the 2022-23 version of the Titans.
"I like that we have a solid team effort, we are pretty well-balanced offensively and defensively, and we are getting a really good effort from a lot of guys in a lot of areas," said Fournier. "These guys show up to practice and they put the work in, there is a lot of potential for them to excel as a team this year if they keep working at it."
The Titans will be in St. Paul this coming Saturday to play.