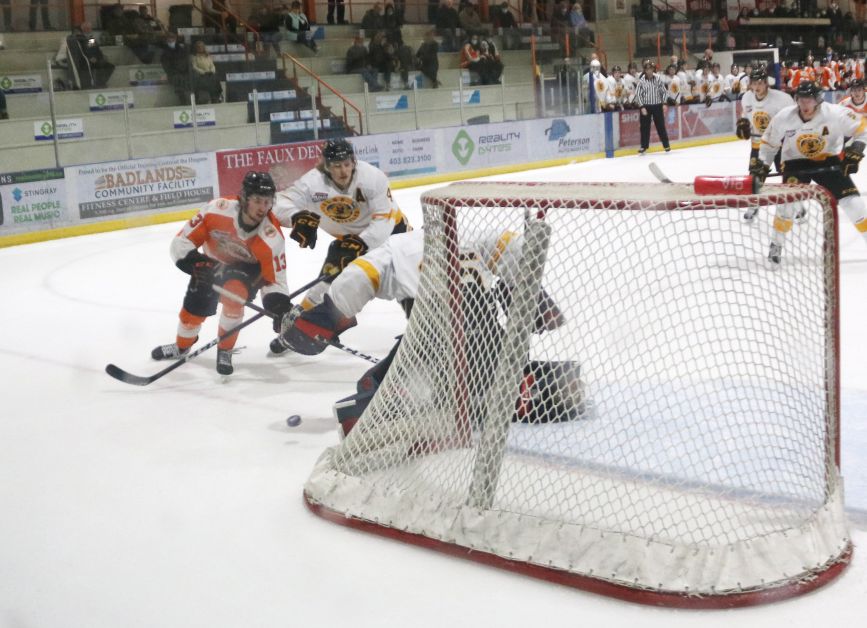 The Dragons extended their winning streak to four games before losing a couple of close ones on the road.
The Dragons were at home on Tuesday, February 8, to take on the Olds Grizzlys. Vann Yuhas opened the scoring for the Dragons, and just nine seconds later, Ty Whitford put the Dragons up by two. The Grizzlys added a shorthanded goal to end the period 2-1 for the Dragons.
The Dragons had 11 powerplay opportunities and connected on two. Kiano Robinson scored midway through the second period, and Carter Belitski scored with less than seven minutes left in the period.
The Dragons held on through a scoreless third period to win 4-1.
The Dragons boarded the bus on Friday, February 11, to head to Spruce Grove to face the Saints. The Saints were big and fast, and neither team scored until midway through the second period, when Spruce Grove took the lead. A game misconduct and a 5-minute penalty for Tanner Willick for a blow to the head, put the Saints on the powerplay, where they added one more in the third and went on to a 2-0 win. Willick will miss two games.
On Saturday, February 12, the Dragons were back on the ice. This time in Calgary to take on the Canucks.
The Dragons struck first as defenseman True Crowe scored his first goal as a Dragons, 6:40 into the game, and the Dagons led after one.
In the second the Canucks outshot the Dragons 14-10 and connected twice. After a scoreless third period, the Canucks eked out a 2-1 win.
There are just five games left for the Dragons in the regular season. This Tuesday, February 15, they hosted the Camrose Kodiaks, results not available at press time. On Thursday, February 17 they are in Canmore to take on the Eagles and back home Saturday, February 19, to play the Blackfalds Bulldogs.