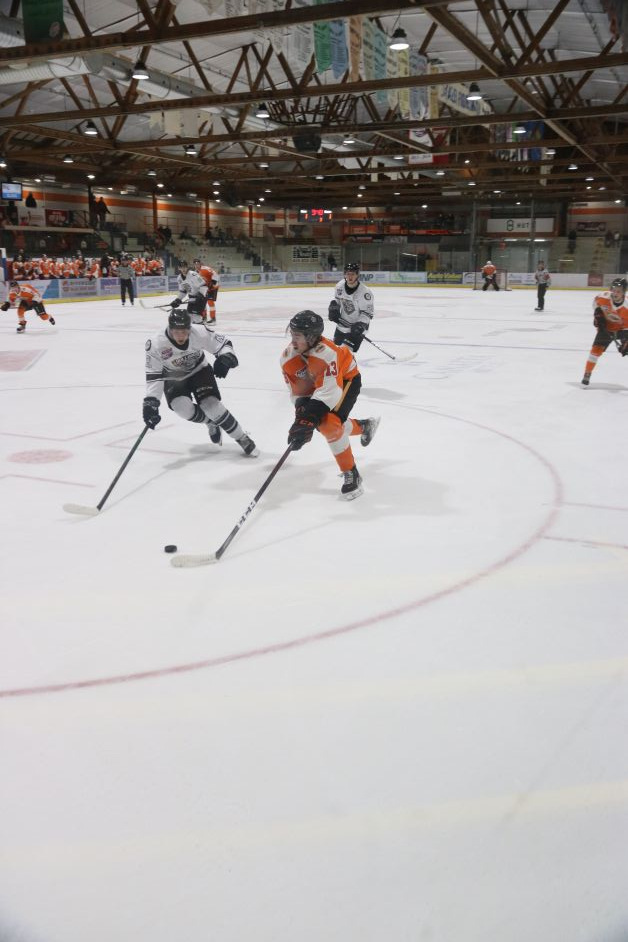 The Dragons earned four out of a possible six points last week, but it was not the way they wanted to with a win and two close losses.
The Dragons were on home ice on Tuesday, January 25, to take on the Blackfalds Bulldogs. The Dragons jumped out, and Ty Whitford scored just 31 seconds into the game. Blackfalds evened it up midway through the second period. At the 11:15 mark of the third period, Ty Daneault scored the winner as the Dragons went on to a 2-1 victory. Eric Ward stopped 27 shots.
On Friday, January 28, the two teams met again, this time in Blackfalds. The Bulldogs scored first, but three quick goals from the drawings from Luke Fennig, Carter Belitski, and Tanner Willick put the Dragons up 3-1. Blackfalds scored two more in the first period, as did Myles Hilman short-handed, as the period ended 4-3 Dragons.
Fennig scored his second of the game midway through the period, but the Bulldogs added one more, as the Dragons led 5-4 going into the third period. Yuhas scored 7:24 into the third, but Blackfalds battled back with two more. Hillman added his second to take the lead with 10 minutes left, but the Bulldogs tied it up, forcing overtime. Just 40 seconds in, Blackfalds took an 8-7 win.
On Saturday, January 29, the Dragons were in Camrose to take on the Kodiaks. The Dragons went on the powerplay early and Hayden Prosofksy capitalized, putting the Dragons up just three minutes in. Camrose bounced back with two quick goals. The Kodiaks outshot the Dragons 14-5 in the second, but it remained scoreless. With four minutes left in the period, Belitski tied it up for the Dragons, forcing overtime. With extra time played out, the game went to a shootout where the Kodiaks connected twice. Kodiaks wins 3-2.
The Dragons are in third place in the AJHL Viterra South, with a dozen games left. On Tuesday night, February 1, they host the Calgary Canucks, and on Friday, February 4, they welcome the Kodiaks to the Dragons Den. On Saturday, February 5, they are back in Blackfalds to play the Bulldogs.