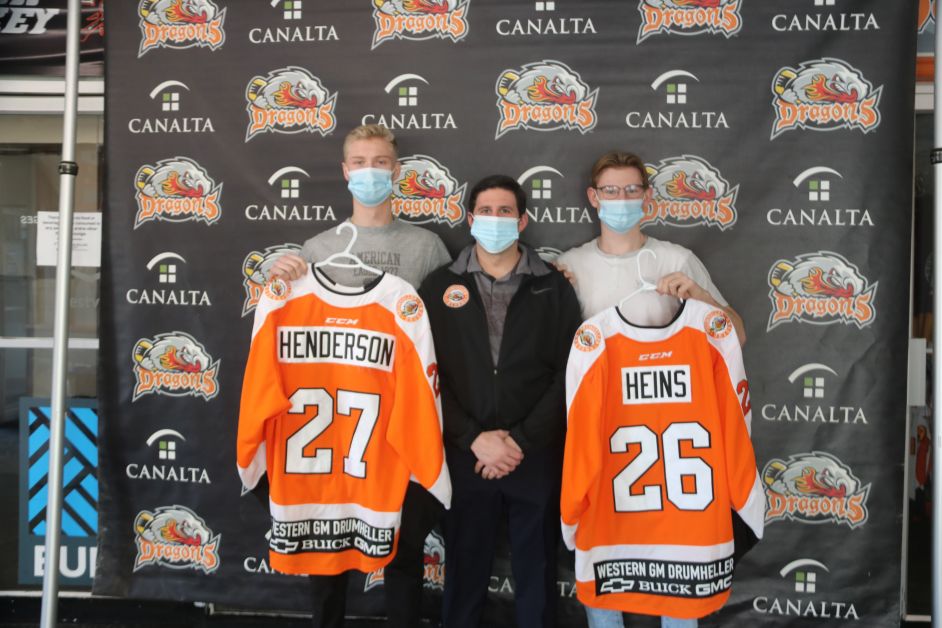 Even as the AJHL season continues for the Dragons, they are continually building for the future, signing two new players.
On Thursday, January 28, the Dragons announced they have commitments from defenseman Ryan Henderson and forward Caden Heins.
We are extremely happy to have these two athletes. They have already been in the lineup once, and each of them has shown they can play at this level. I have been watching them all year, and they continue to progress," said Dragons' assistant coach Kenton Levesque. "Henderson is a guy you can expect to see on the backend next year, and Heins will be upfront. They both bring a sense of skill, a sense of composure, and they also both like to chip in to the emotional side of the game, which is something that really stood out for us."
Henderson is 17 and from Lethbridge. He has spent the last two years playing for the U18 Lethbridge Hurricanes. He says he brings solid skating skills and good playmaking decisions.
"I am ecstatic, it has always been a dream of mine to play junior, I'm happy to have an opportunity," said Henderson.
Heins, 17, hails from Diamond City also spent the last two years in the U18 Hurricanes' line-up. He says he brings strong shooting skills and the ability to work the boards and break down defenses.
"I came here for a week and got a really good feel for it. Playing junior was ultimately my goal, so it is good to say I finally made it," said Heins.
Levesque is impressed with what the players bring off the ice.
"Right from the get-go when we saw them play, and in talking to their parents, they share the same values as we do. They prepare relentlessly, no matter what they do, they work extremely hard, and they are both good people surrounded by good families. That is always what we look at when we're recruiting Dragons, and those guys check all of these boxes in a big way," said Levesque.