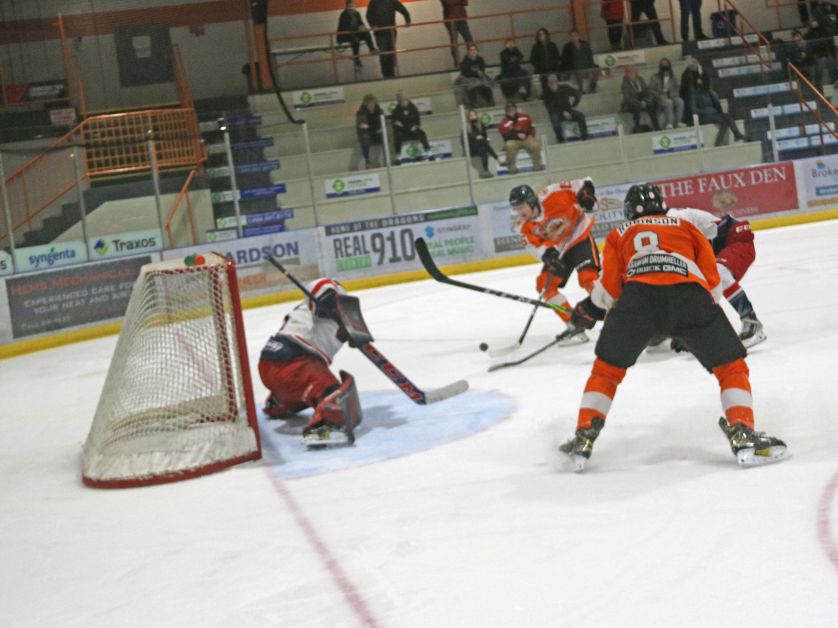 The Drumheller Dragons had a busy week and managed to pick up four points including a big win over the top team in the country.
The Dragons were on the ice for a grueling four games this week starting off on Tuesday, January 18 in Canmore.
Ty Daneault took the lead for the Dragons at the midway point of the first period.
The Eagles tied it up early, but Myle Hilman and Liuke Fennig each scored in the second, but Canmore added one more, going into the third with the Dragons up 3-2. Canmore finished the game with two goals in the third to take a 4-3 win.
The next night, Wednesday, January 19, the Dragons were in Blackfalds to take on the Bulldogs. The team traded goals in the first period, with the Dragons' points coming from Ty Whitford and Grayson Dietrich. The first ended in a 2-2- tie. Fennig took the lead for the Dragons midway through the second period to go up 3-2. The Bulldogs added two in the third, and Vann Yuhas added one as the teams tied, and headed to overtime. The Bulldogs took the win just 1:18 into extra time.
The Dragons were finally back home on Friday, January 21 to take on the Brooks Bandits, who until that point have only dropped two games all season. The Bandits struck first, but Hayden Prosofsky tied it up after one. Ty Danaeult and Alexey Trischuk rattled off two goals early in the second, but the Bandits bounced back, with one. The Dragons led 3-2.
The Bandits tied up the game just 59 seconds into the third period, but defenseman Kiano Robinson and Kody Willick added two more goals. The Bandits scored with 11 and half minutes left, but the Dagons held on to a 5-4 win. Eric Ward staved off 37 shots in the win.
On Sunday, January 23, the Dragons hosted the Canmore Eagles for the second time in less than a week. Sam Simard put the Dragons up 1-0 after one period. The Eagles scored two in the second, taking the lead, but Carter Belitski scored with five minutes left in regulation on the powerplay to tie the game.
The Dragons outshot the Eagles 59-20, and after a scoreless extra period, the game went to a shootout where the Eagles took the win. Final score 3–2.
This Tuesday, January 25 the Dragons host the Bulldogs, but finish the week on the road taking on Blackfalds again on Saturday, January 28, and then the Camrose Kodiaks on Sunday, January 29.