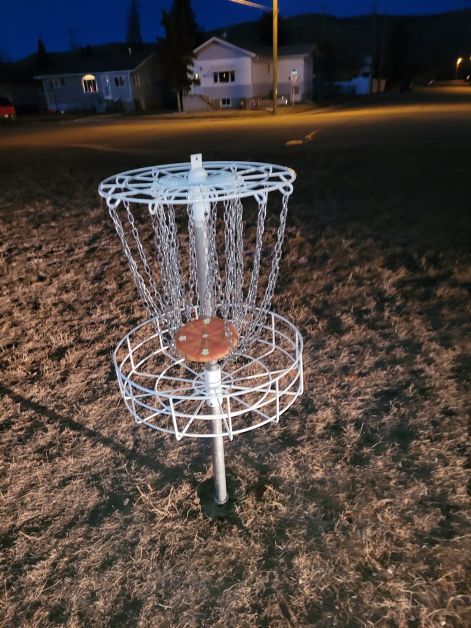 Drumheller Disc golf players have seen a resurgence of the sport in the valley and have made their newest course more permanent.
Drumheller has been a popular destination for disc golfers for many years, with the popular Wayne course that has hosted the annual Lost Egg Classic for years, as well as a course in Midland Provincial Park. This summer saw the installation of a new course in the Riverside area. And throughout the summer, it was rare not to see a cohort of players making their way around the course.
Over the weekend, they made the course more permanent.
"We have a local player who works in the oilfield industry who has made spec baskets, and has donated them to the course," said Cameron White.
White and his wife Megan began Fire Coulee Discs, coming into the pandemic having their love of the sport reignited and just wanted to put discs in other players' hands.
We just wanted people to play the sport of disc golf,' said White. "It is one of the fastest-growing sports right now."
The course near Riverside is what they are calling their practice course. Geographically, it is flat and has no challenging terrain to maneuver, making it accessible to any player. It is also accessible in terms of player capabilities. It is a great beginner course and is in a highly-visible space, and with the new baskets can be played even through the winter.
"We tried to find a spot in town where anyone of any age could play," he said, adding the Wayne and Midland Courses are much more technical courses, and harder to play.
"The course we have set up you could play in a wheelchair."
The course has flourished. The course has been well used by locals, as well as visitors. White explains the course is listed on Udisc, an app with a directory of courses.
"We have had over 70 entries on our little course, and most of them are from out of town," said White.
Enthusiasts are also looking at installing a course on the Stampede Barn land, and have begun to map out a trophy course.
The Midland Course also saw some action this season with a Charity Classic in October for the local Food Bank, organized by a player from Edmonton.
He hopes the momentum will continue to grow the sport for locals and visitors.
'We will have people not just coming here to see dinosaurs but coming here to play disc golf," said White.