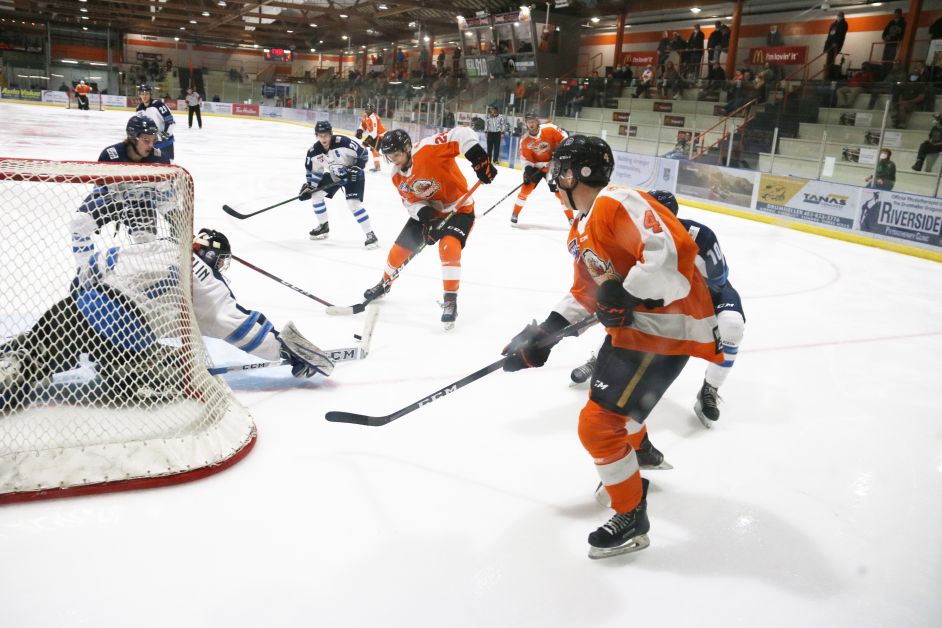 The Dragons are sporting an 8-3-1 record after a strong week of topping South Division teams.
The Dragons were in Olds on Wednesday, October 13, to take on the Grizzlys. Olds was up one after the first period, but four minutes into the second, Vann Yuhas tied up the game on the powerplay. Olds jumped out ahead again, but the Dragons evened it up with six minutes left in the second.
In the third period, Kasey Heimstra and Ty Daneault put the Dragons up 4-2. Olds scored at the 16:23 mark to bring it closer, but Luke Fennig scored on the empty net. The Grizzlys answered back with 39 seconds left to make the game 5-4, but another empty netter from Kody Willick with five seconds left put the Dragons up 6-4.
On Friday, October 15, the Dragons were in Okotoks to take on the Oilers.
Sam Simard scored just 16 seconds in and never looked back. He scored again less than two minutes later, and then a minute and 20 seconds later, Yuhas put the Dragons up 3-0 to end the first period.
The Dragons attack continued in the second period as Carter Belitski scored twice within the first 5:35 of the second. The Oilers finally got on the scoreboard with 5:59 left in the second, but that was all they could muster. In the third period, Cyle Clayton added one more as the Dragons went on to a 6-1 win.
On Saturday night, October 16, the Dragons were back on home ice to play the Canmore Eagles. While the Eagles scored first, Yuhas evened it up in the powerplay 12:40 in. Clayton added one 19 seconds later, and then Yuhas scored his second to end the first up 3-1. The Dragons kept the pressure up in the second with Fennig scoring on the powerplay, and then Kiano Robinson added another less than two minutes later. Ty Whitford added one more to go up 6-1. The Eagles added one more with two and half minutes left in the second. Midway through the third period, Grayson Dietrich scored on the powerplay as the Dragons went on to a 7-2 victory.
The Dragons scored 19 goals in three games and earned back the third spot in the Viterra South Division. This Friday, October 22 they host the Fort McMurray Oil Barons and on Saturday, the Drayton Valley Thunder.