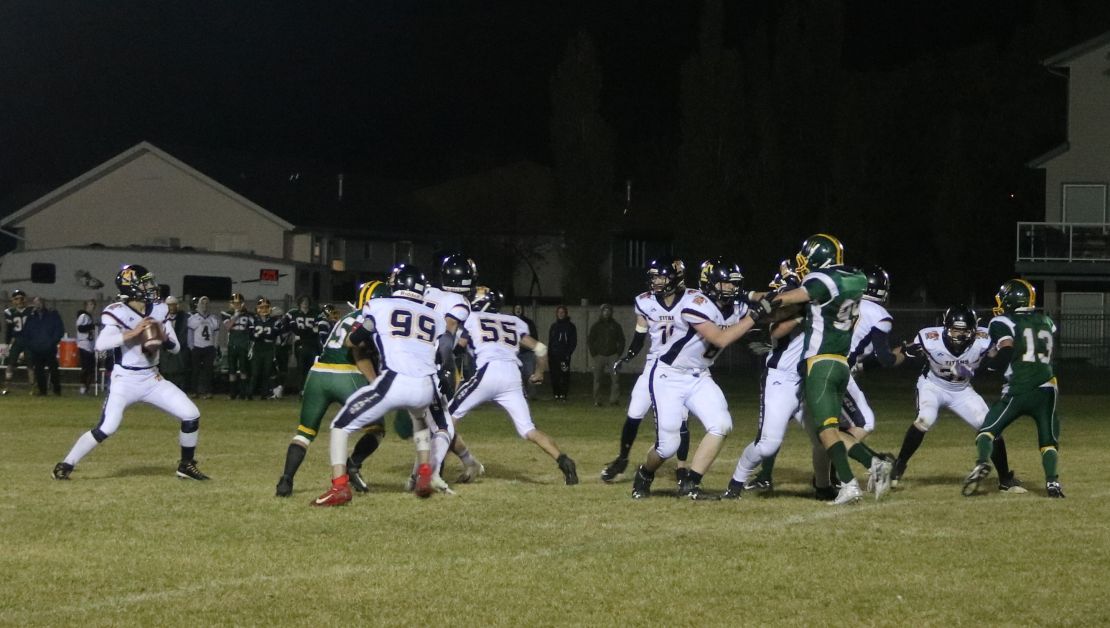 The Drumheller Senior Titans cruised their way to another victory under Friday Night Lights at home.
The Titans hosted Canmore on October 15. It was a runaway as the Titans scored two touchdowns in the first quarter and two in the fourth quarter, and shut out Canmore with a 28-0 victory.
"Canmore is adapting their offence throughout the season, so the first time we played them a lot was in the air. This time we played them a lot was between the tackles and over the top," explained Coach Fournier. "Our defence did a heck of job adjusting. We are playing some tough opponents so this helped us prepare for these scenarios, and get healthy and get some guys in the lineup. We're getting young guys in, and they are making a difference ."
He said Davis Watson had a great game at linebacker, and Haydn Jones was steady again.
"Shutouts are hard to come by especially when you are playing the same team two or three times a year," said Fournier. "Offensively, I thought we played better, I think we are more fluid in our passing game."
"We made a few errors, and guys were out with injuries, but that's the nature of the game."
The post-season is quickly closing in on the Titans. This Thursday the Titans will be in Olds for their final league game, and then will have a weekend off. The following weekend they will be playing in the league semifinals. Currently, they are ranked second in the province for Tier IV teams and are looking towards provincials.
He hopes the team will continue to get healthy down the stretch.
"It seemed like in the first half of the season, we were playing every game down a couple of guys in key positions. It appears we are getting to a point where we are tougher, we are getting guys healthy. We are rotating some of the younger guys in more, they are coming in and out of the game, keeping guys fresh. We are in a better spot than we were earlier in the season," said Fournier.