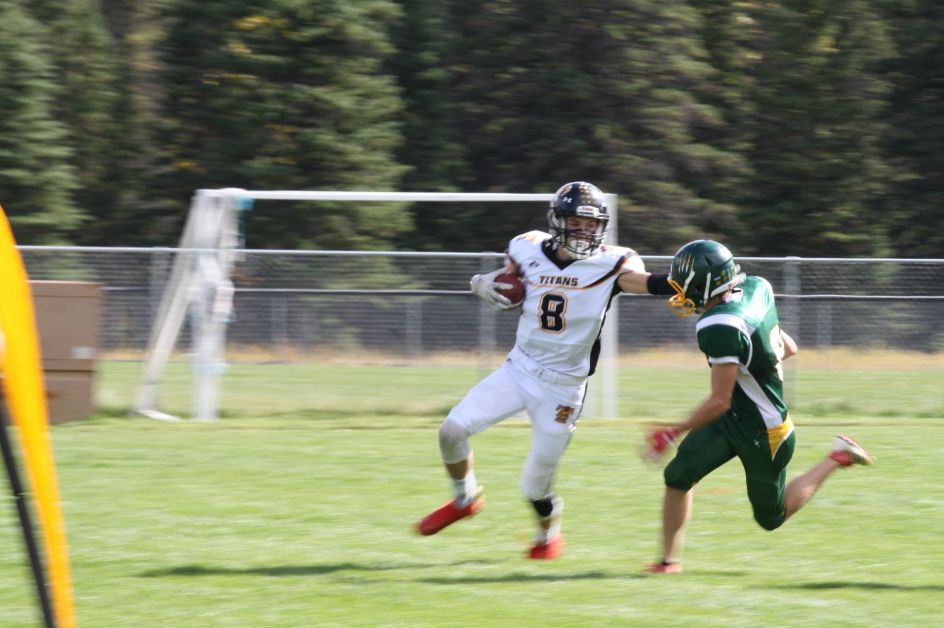 With another win on Saturday, the Senior Titans have moved up in the Tier IV Alberta rankings and are sitting in second spot.
The Titans were in Canmore to take on the Wolverines in league play. They dominated and walked away with a 37-10 win.
"The positives were we moved the ball through the air, and we moved the ball on the ground," said Coach Ken Fournier. "We held Canmore to 10 points, they had their touchdown in the first half and that was it."
Fournier said the game was riddled with penalties, but the Titans were able to adapt. There were a few turnovers and plays called back but the Titans were resilient and would go ahead and cause a turnover, and even blocked a punt and recovered it."
He said the rookie players were active on the field and were part of some big plays.
"Our defence put in a strong effort which was good to see. Canmore had some good players," said Fournier. "We went ahead a bit, but they still made some really good plays and it was a pretty good battle."
He said Matthew Perez had a great game, playing defense for the first time with a blocked punt. Hayden Jones also had a monster game. On offence, Devon Landon and Teagan Watson played stellar games.
He likes how the team is progressing as they head into the second half of the season.
"We have committed to developing our young guys because technically we don't have any seniors. We didn't have anybody who played a grade 11 season, so we have six or seven Grade 12s and the rest are rookies," said Fournier. "We are still learning our team identity and still sorting out who is going to play where, and over the next three weeks we will probably have that solidified."
This Friday night, the Titans host Olds, a team they have not seen so far in league play. Game time is 6 p.m.