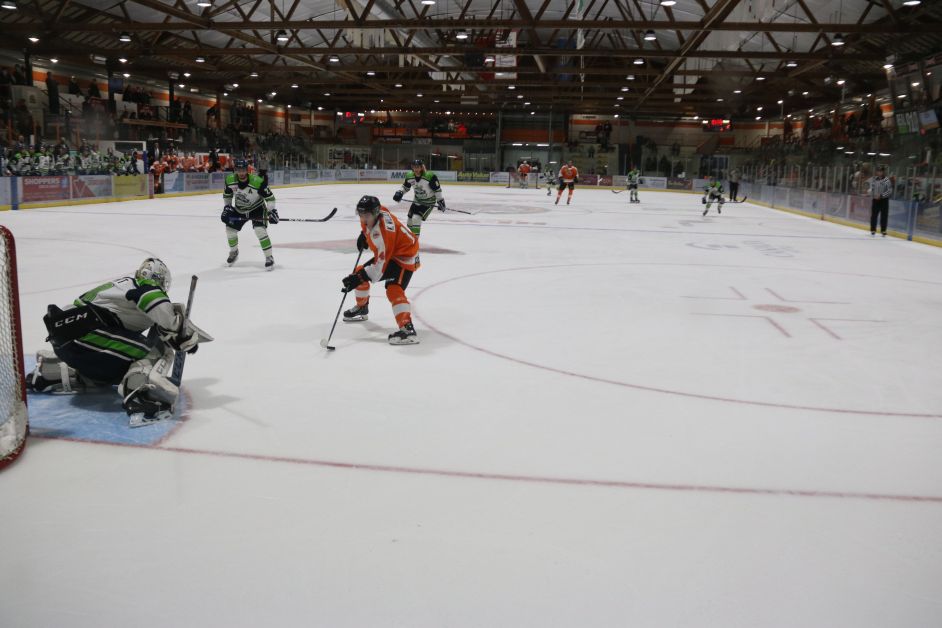 After a winning exhibition season, the Dragons jumped right into the regular season and saw some instant success.
The Dragons hosted their home opener versus the Calgary Canucks Friday, September 17, in front of a limited 621 fans.
The Dragons jumped out in the first period with a goal from Grayson Dietrich at the 13:37 mark. Will Christian followed it up a minute and a half later to end the first period up 2-0.
The Dragons kept up the pressure with powerplay goals from Luke Fennig and Tanner Willick. Ty Daneault then found the net for the Dragons to go up 5-0 less than eight minutes into the second period. The Canucks found the net, but Kiano Robinson scored on the powerplay to end the second period with the Dragons up 6-1.
In the third period, the Dragons kept up their scoring ways, with Zach Burns scoring at the 4:42 mark. The Canucks connected again, but Grayson Dietrich scored his second on the powerplay to cap off a Dragons' 8-2 win.
On Saturday, September 18, the Dragons travelled to Brooks. The Bandits were coming off delivering a 17-0 drubbing to the Blackfalds Bulldogs.
The Dragons wasted no time getting on the scoreboard as Adam Raesler scoring a minute and 15 seconds in.
Christian followed him up on the powerplay to end the first period up 2-0.
The Bandits tied it up after two, but 1:47 into the third period, Kody Willick scored on the powerplay. The Bandits tied it up again, but Christian scored the winner with 6:38 left in the game, making it 4-3.
The Dragons are back in action, looking to build on this strong start on Friday, September 24, when they host the Camrose Kodiaks, and then on Saturday, head to Okotoks to take on the Oilers.