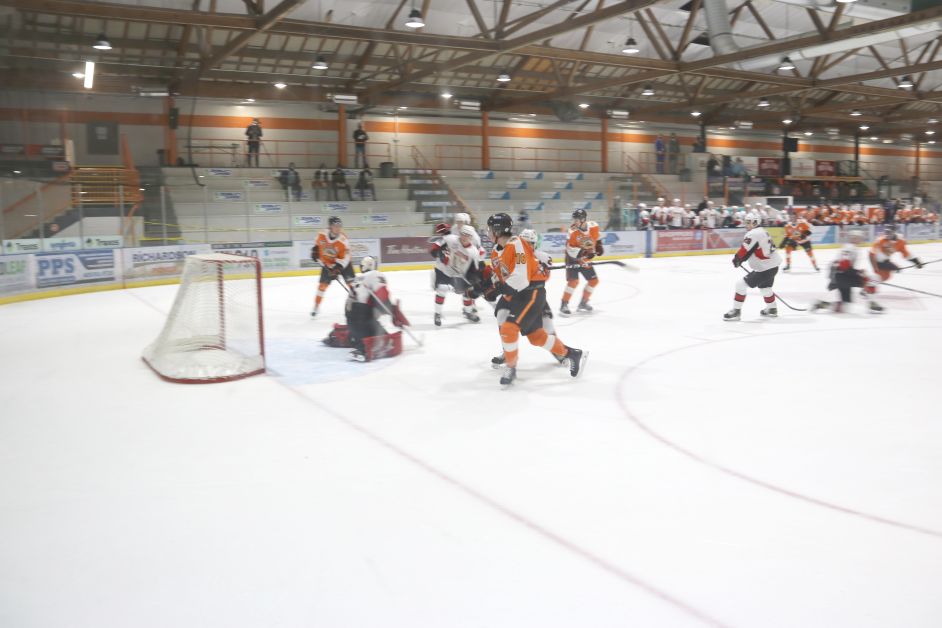 The Drumheller Dragons split last weekend with a win over Olds on the road but fell to Camrose at home.
The Dragons were in Olds to take on the Grizzlys on Friday, April 2. The Grizzlys were on the defensive right away after a tripping penalty. Defenseman Cyle Clayton scored his first as a Dragon on the powerplay, assisted by Carter Belitski and Kasey Hiemstra. Less than 10 minutes later Aiden Yakimchuk scored unassisted.
The Grizzlys tied it up with two powerplay goals; one late in the first period, and one early in the second period Zach Burns regained the lead for the Dragons with 4:07 left in the second on the powerplay, assisted by Tyson Gross and Aiden Yakimchuk.
In the third period, Adam Raesler put the Dragons up 4-2 assisted by Sam Simard and Burns. The Grizzlys answered back with two minutes left but it was too little too late as the Dragons won 4-3.
It appears a rivalry is growing between the Dragons and the Camrose Kodiaks, and while the Dragons outshot the Kodiaks 40-30 on Saturday, April 3 at home, penalties played a big role in the outcome of the game.
After a scoreless first period, five minutes into the second, Luke Fennig scored shorthanded, assisted by Grayson Dietrich and Kiano Robinson, to tie the game. A tripping penalty by Kent Anderson led to the Kodiaks taking the lead on a powerplay goal, but then Burns tied it up again a minute later. At the 17:31 mark of the second Hiemstra was issued a kneeing penalty and a 10-minute game misconduct. The Kodiaks capitalized with a goal to end the second period, and another early in the third period to go up 4-2. The Dragons dominated play in the third period, but a tricky bounce led to the Kodiaks going up 5-2, and then an empty netter sealed their fate.
At this point, the AJHL has not announced whether there will be more play this season. Currently, the Dragons are in fourth place in the Viterra AJHL South division.