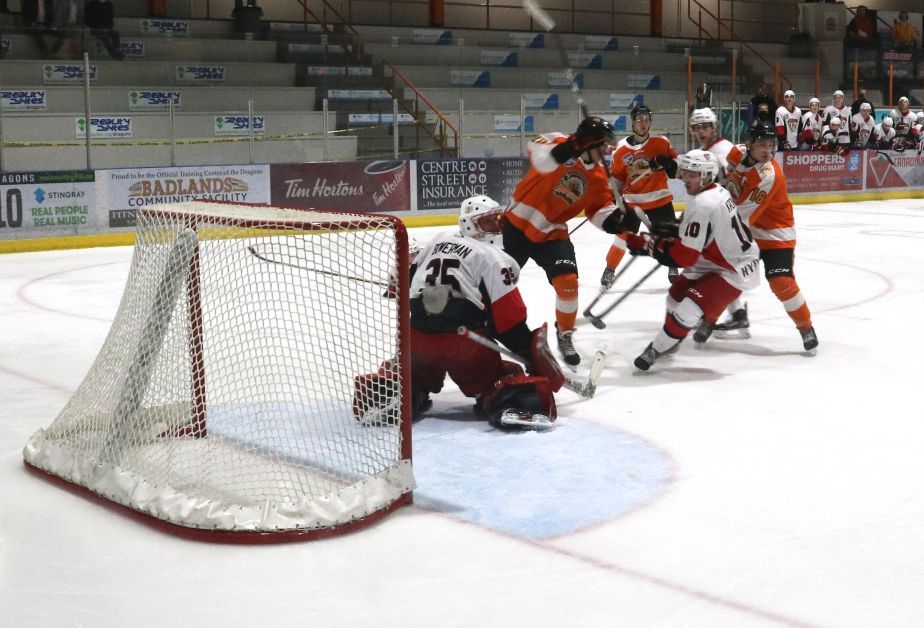 With two victories last weekend, the Dragons are on a three-game winning streak through the second weekend of the new season.
The Dragons were in Olds on Saturday, March 20, to take on the Grizzlys, and put on a scoring clinic.
Luke Fennig opened the scoring unassisted at the 8:39 mark. This was followed up by Aiden Yakimchuk two minutes later, on the powerplay.
In the second period, the Dragons picked up where they left off with Kent Anderson scoring at 5:24, and then Hayden Prosofsky 10 minutes later. Mack Stewart scored his first as a Dragon in the third period to cap the Dragons 5-0 victory. Ryley Osland had the shutout, stopping 28 shots.
On Sunday evening, the Dragons were back home to take on the Camrose Kodiaks. The Kodiaks scored a minute into the game, but Grayson Dietrich tied it up five and half minutes later, to end the first period tied at one. The Kodiaks took the lead early in the second period, but Carter Belitski tied it back up, and with less than a minute left, Miles Hilman scored to give the Dragons the lead.
The Kodiaks wouldn't relent and scored early in the third period. Stewart found the net again for the winner at the 4:20 mark. The Kodiak didn't give up and pulled their goalie with two minutes to go. After a flurry of chances, Hilman hit the empty net for the 5-3 win. Garrett Fuller stopped 26 shots in the win.
This Friday, March 26, the Dragons host the Grizzlys, and then on Sunday head to Camrose to play the Kodiaks.