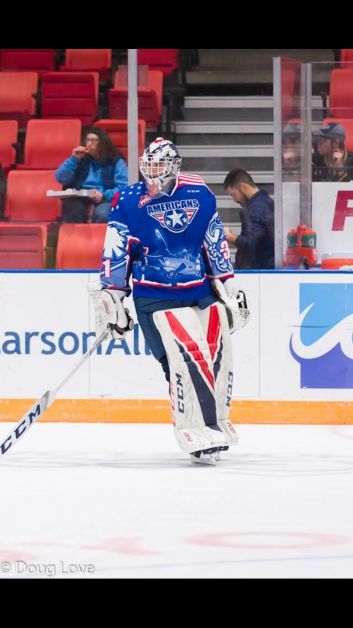 A Drumheller goalie's stock is rising even during a pandemic as Talyn Bokyo was listed as a player or watch on the NHL Central Scouting Report.
Talyn, the son of Kelly and Sharla, is in his third season with the Tri-City Americans of the WHL. So far this year the season has been sidelined, he is still being noticed on the list.
"You try not to look at that stuff too much, but obviously it's always nice to be recognized, so it is pretty cool to see it," said Boyko.
He is listed as a 'C' prospect which puts his potential selection as high as the fourth round. There are only about a half dozen goalies on the list rated as an 'A' or 'B' prospect. This is the first year he is eligible for the draft.
While it looks like there isn't much more of a season to salvage this year, he made an impression with his previous work with the Americans posting a .884 save percentage and a 4.75 GGA. He was selected 53rd overall in the 2017 WHL Bantam Draft.
While he hasn't been able to get on the ice in gameplay, late last year when it was still allowed, he would work out four times a week at Crash Conditioning in Calgary with other WHL players.
It is a challenge to stand out during a pandemic.
"It's tough with nothing going on. I think teams are watching the video and stuff like that and talk with you, whether an email or a call to see what you are like," he said. "Everyone is looking to see if we can play or not, and after that, maybe there will be some tournaments for the prospects, but hopefully we'll play soon."
In the meantime, he is doing everything he can to prepare for what could be left of the season and keeps working out.
I am really lucky we have a good set up here at home in the garage where I can work out, and we actually built an ice surface in the back yard to go out and do a little bit of movement and try to keep sharp," he said.
The players to watch list is the NHL's Central Scouting's compilation of top prospects from all the major development leagues throughout North America and Europe. The list is kept updated throughout the season.
The 2021 NHL Entry Draft is on July 23-24, 2021.