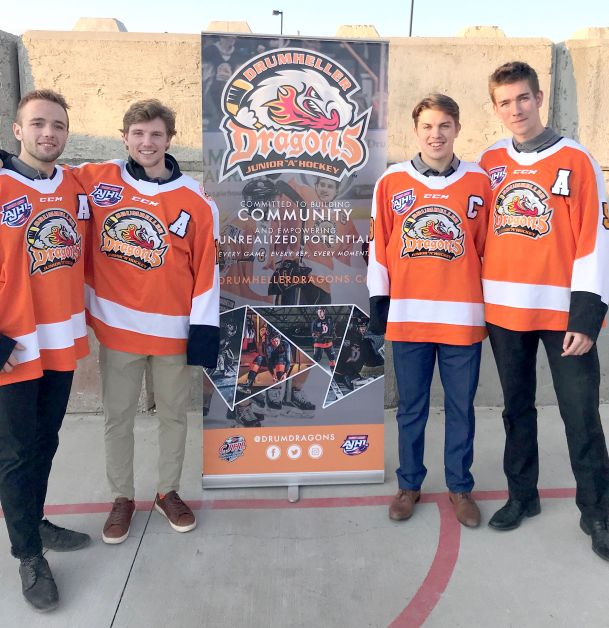 The Drumheller Dragons have selected third-year forward Derrick Budz to lead the team this season as captain.
Budz, from Yorkton Saskatchewan, is entering this third year and has spent his AJHL junior career wearing the orange and black of the Dragons. Last season he had 23 goals and 22 assists for 45 points.
"Derrick is a leader by example who is well respected by his peers. He comes to the rink well prepared and works extremely hard to do what's best for the team," said coach Kevin Hasselberg. "His infectious positive attitude creates a safe environment where development and camaraderie are achieved. He will be a tremendous captain for the Drumheller Dragons."
Assisting Budz this season as Alternate Captains defenseman Aiden Yakimchuk, forward Kaden Hanas, and forward Brady Risk.
Yakimchuk of Edmonton is entering his second season for the Dragons. He was acquired from the Sherwood Park Crusaders at the beginning of last season. Yakimchuk will help with the development of the young defensemen on this year's roster.
Hanas is also entering his third season with the Dragons and the Strathmore product has shown throughout the preseason his ability to take charge and lead the room. Hanas split time between the Dragons and Spokane Chiefs in the Western Hockey League during the 2018/19 season. His enthusiasm and energy have contributed 255 penalty minutes and 29 points in 82 AJHL games played.
Risk is the most experienced player on the Dragons roster. With 176 career games played in the AJHL, the Medicine Hat product is expected to be one of the Dragons leaders offensively. In three seasons, Risk has scored 43 goals adding 58 assists for 101 points. Risk has earned a commitment from the University of Alaska Fairbanks Nanooks, a Division 1 college team competing in the WCHA.