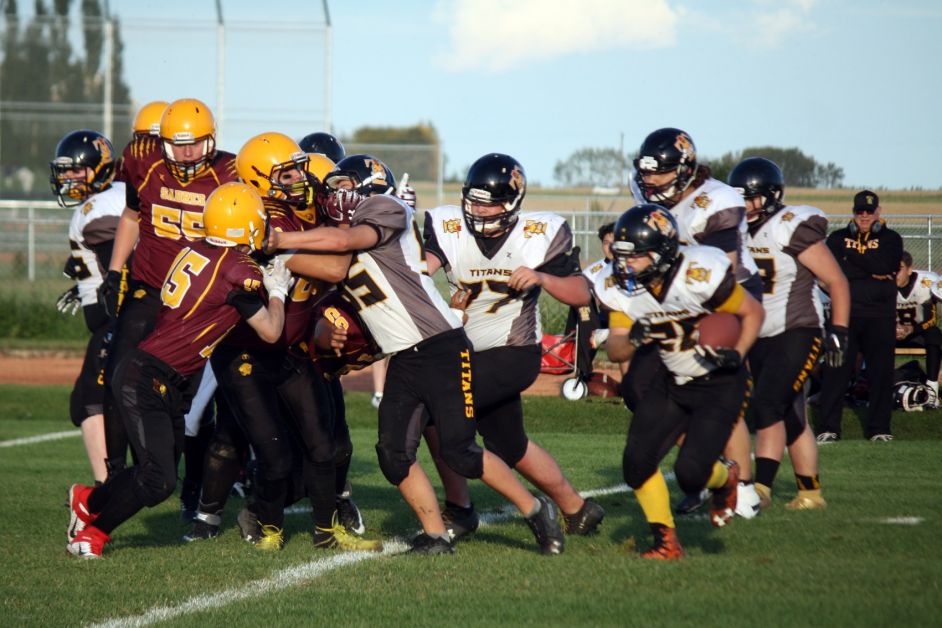 The Drumheller Senior Titans had a busy week, but when the dust cleared they chalked up two victories.
The Titans were on the road Monday evening, September 9, to take on Canmore. Coach Ken Fournier explains there were some logistical issues. Initially, the game was scheduled as a home game, but the lack of referees prompted them to move it to Canmore for Sunday. According to ASAA Regulations, there are not to be no Sunday games, so it moved to Monday.
When they finally managed to step on to the field the Titans eked out a 14-12 win. A win is a win, but Coach Fournier saw areas that could use improvements.
"I wasn't really happy with how we played. I think we missed a few key opportunities," said Fournier.
He notes that he had a few novice players on the field, which is great for the team, but their inexperience showed a bit.
"We started the season with 11 guys we knew were returning and we are up to 29. That is a lot of new bodies out there learning to play the game in a hurry," said Fournier. "It's great but from a coaching standpoint, it is difficult to get everyone ready to play."
He said Canmore played well.
"They look young at the running back spot, and their defense played very well and they were extremely mobile," he said.
This makes the Titans 2-0 in league play after an earlier victory over Olds.
On Friday, September 14 they were in Wetaskiwin for exhibition play versus the Tier 3 team. The Titans had to play a strong game and left the field with a 19-6 win.
"They outsized us in every position, they were big boys," said Fournier. Our guys played very well. We had a couple of mistakes, but we moved the ball quite well through the air and moved it around the edges, but it was just a really good football game."
The Titans were able to hold Westaskiwin off the scoreboard until the very last play when Westaskiwin finally scored.
"Defense had a great day out there and again the new guys were contributing getting in on some of the plays," he said. "When you start seeing a Grade 10 linebacker get sacks in the back fields or tackles for a loss of yards, that's really good for the future of the season and the program."
The Titans have a bye week and then they are back on the road. With only two teams in their league, they are arranging exhibition games to help them improve.
"We are expecting good competition in these games. We are exchanging film and not going into these games blind and not expecting what we see from these guys. We want these teams to give us a good look," said Fournier.