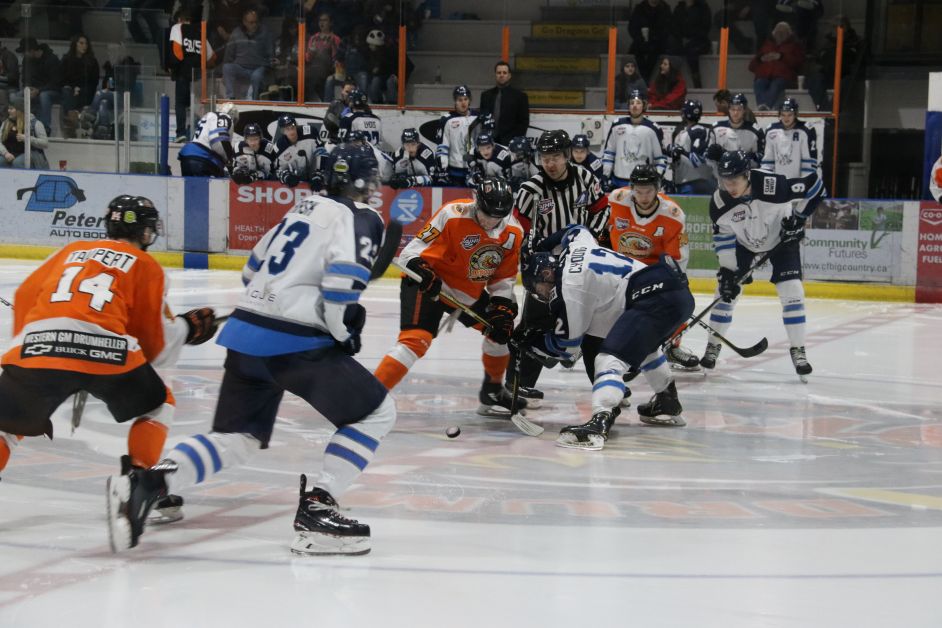 With about a month left in the regular season, the Drumheller Dragons are clinging to third place in the AJHL south and earned two of possible six points last week.
The Dragons were on the road on Wednesday, January 23 to take on the Spruce Grove Saints who are in third in the AJHL Vittera North Division. Spruce Grove led 2-0 after one and scored 15 seconds into the second period to go up by three. Brady Risk scored with three and a half minutes left in the second to put the Dragons on the scoreboard.
Early in the third, the Saints stretched the lead to 4-1. The Dragons fought back and Roc Truman scored at the 2:12 mark, and Shane Ott scored with 2:26 left but that was as close as the Dragons could get, falling 4-3.
The Dragons were back home on Friday, January 25 to take on the Canmore Eagles. They wasted no time and the score was 2-0 by the end of the first period with a power play goal from Roc Truman and then Brett Edwards.
Canmore scored at the 7:16 mark of the second, but the Dragons scored their second powerplay goal of the game from Brayden Nicholetts, followed by a goal from Markus Boguslavsky.
Canmore scored again 15 minutes into the third period but Edwards scored his second of the game to put it out of reach, winning 5-2.
On Sunday, January 27, the Dragons were back on the road to take on the Sherwood Park Crusaders, who are currently in second place in the North. The Crusaders went on a rampage early and were up 3-0 by the midpoint of the second period. Edwards scored short-handed with seven and a half minutes left in the period, but were trailing 4-1 by the end of the second. An early goal in the third period put the Crusaders up 5-1, but Shane Ott added one for the Dragons at the midway point, ending the game losing 5-2.
This Friday, February 1 the Dragons are in Calgary to take on the Canucks, and then Saturday at home to take on the Brooks Bandits.