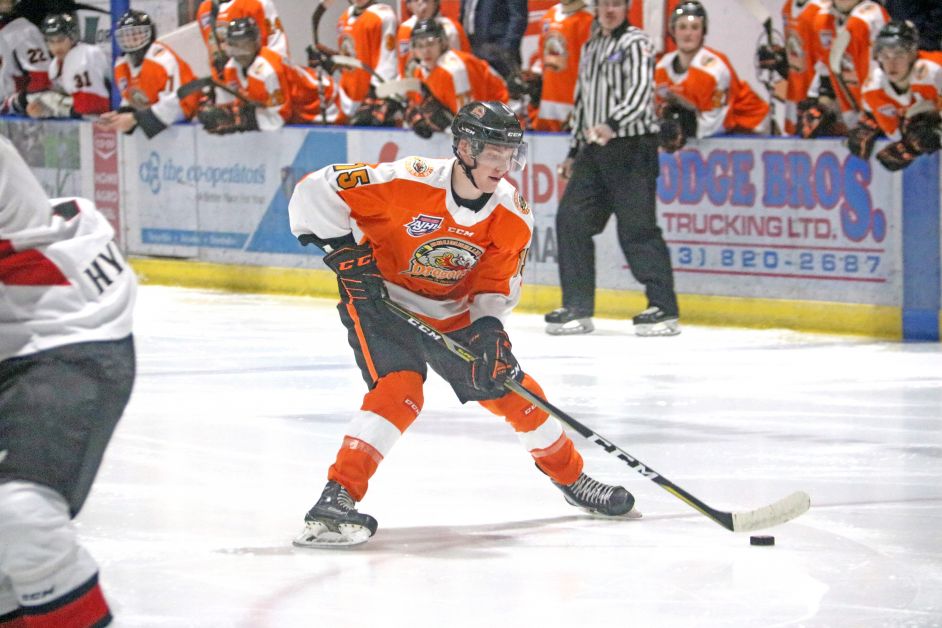 The Drumheller Dragons ended 2018 with a bang, downing the Olds Grizzlys in a convincing fashion.
The Grizzlys were in Drumheller on Saturday, December 22, to take on the Dragons in front of 944 fans. This was the last game of the year and the Dragons wasted no time in getting the jump on Olds.
Just 40 second into the game Scout Truman gave the Dragons the lead. Five minutes later Derrick Budz scored unassisted on the power play and then with three and half minutes left in the period, Roc Truman scored to put the Dragons up 3-0.
The barrage didn't stop as Alex Rotundo scored on the power play at the 3:43 mark of the second, followed by Braydon Nicholetts at the nine-minute mark. The Grizzlys final got on the scoreboard midway through the period, but Budz scored his second of the game and Brett Edwards followed it up. The Grizzlys scored in the third, but the Dragons went on to a 7-2 win.
The Dragons outshot the Grizzlys 49-31 and four Dragons each had two points
The Dragons ended the year in second place in the Viterra AJHL South with a 23-12-2 record behind the dominant Brooks Bandits.
The Dragons are back on home ice on January 4, to take on the Bandits.