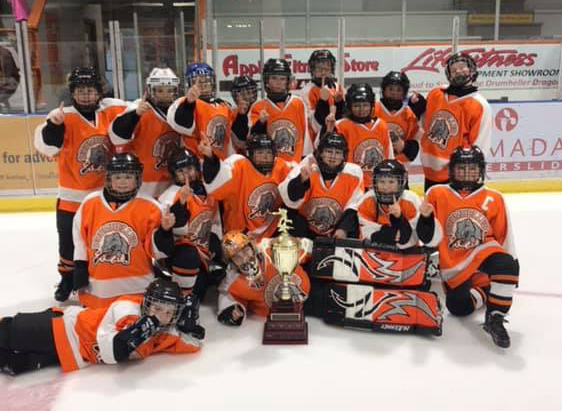 The Yavis Atom Raptors took home the championship at the Charmont Memorial Tournament.
The tournament named in memory of Chris and John Charmont who lost their lives tragically in 2010, was played out at the Drumheller Memorial Arena over the weekend. The Raptors invited seven other teams in the round robin tournament.
Raptors toppled Chestermere in their first game 10-0 on Friday night, November 9. They continued to win topping Blackfalds 9-1 and then Indus 4-0.
This put them in the championship game Sunday afternoon, November 11 versus Cochrane. They won 4-1.
The Raptors have been playing well and coach Ryan Bitz is proud of his team.
"They passed really well, they skate with their heads up and are looking for their teammates," said Bitz. "And that is not just for this tournament, but the last five games, so it has been really good."
Last weekend was a break for league realignment, and the Yavis Raptors are going to be playing at tier 3 this season.
'We were in tier 4 but the boys have played pretty good, and Corbin Mouton is an outstanding little goalie for us, he sure helps out," said Bitz. "My coaching staff is really top notch, they do a great job too."
The season schedule is getting made-up and play resumes this coming week.