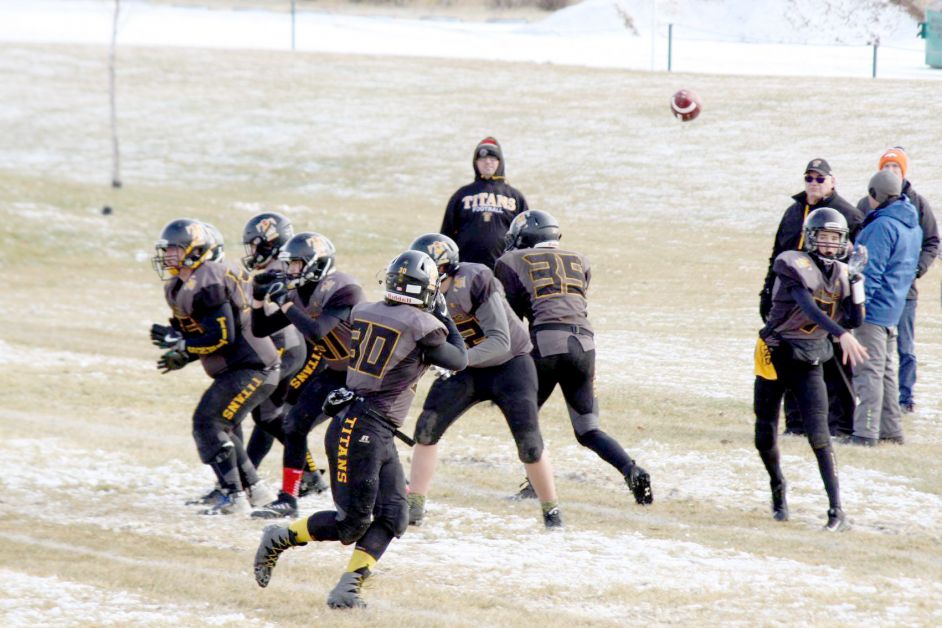 The senior Titans' season ended on a sour note after time clock issues contributed to a loss to Taber on Saturday in the provincial semi-finals.
After a season which saw the squad play "ironman" football with a limited roster, the Titans returned home on November 10 with a 16-13 loss to Taber after they scored in the last two minutes of play. Coach Ken Fournier and spectators reported the time clock was not running at points in the game, giving Taber extra time to get ahead of Drumheller in the last moments of the game.
"This is my 35th season of football and I've never seen something like it," says Fournier, who adds the referees dismissed the team's concern and would not listen to the coaches or team captain. A complaint has been filed with Football Alberta.
"To have your guys go down there and play a fantastic game – both teams played fantastic – it was hokey and I was not impressed. The stakes are pretty high so it's disappointing to go in and lose a game in that manner."
The Titans faced adversity all season, beginning with a small roster which had players filling both offensive and defensive roles as well as special teams. The team finishes with a 6-4 record including playoffs but only had one loss heading into the end of the season.
"Season wise we were limited by what we could do. These guys played ironman football all year, they played very well to come out like they did. It takes an entire solid team effort to get to where they were," Fournier says. "That's what being a part of the Titans means."
The team is hoping their roster grows next year. Six senior Titans will be graduating this year but the success of the bantam Titans and the Terrapins this year means the organization will have some talent coming up in future seasons.