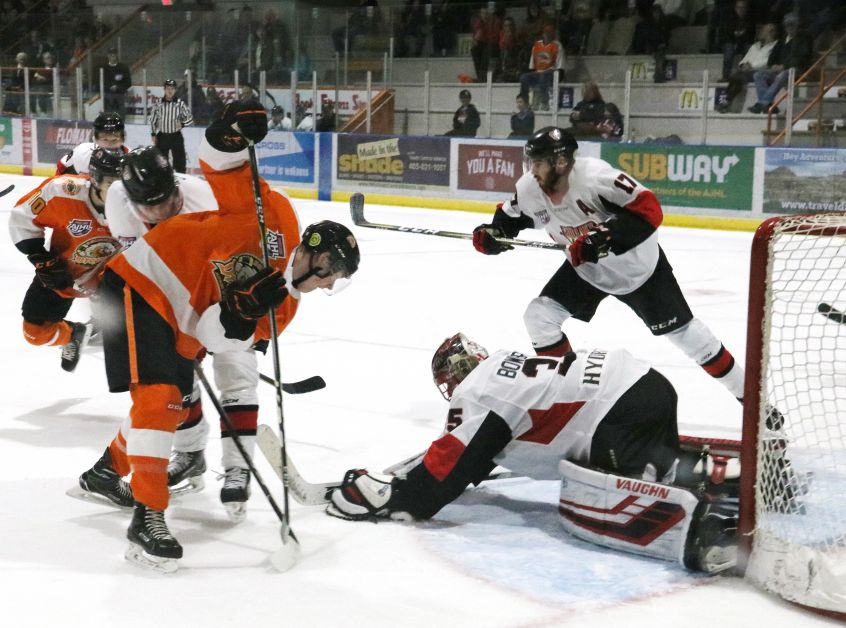 The Drumheller Dragons continue to play great entertaining hockey and at the same time hold on to the second spot in the AJHL Viterra South.
The Dragons split on a home and away series versus the Kodiaks over the weekend.
On Friday, October 26 the Dragons were in Camrose to face the Kodiaks. After a scoreless first period, the Kodiaks opened the scoring six and a half minutes into the second. The Dragons responded with four minutes left in the period with a powerplay goal from Brett Edwards, from Roc Truman and Scout Truman. After a scoreless third period and overtime, the game went to a shootout. Shane Ott scored the winner.
The Kodiaks came to the Dragons Den on Saturday night to take on the Dragons. Again the Kodiaks opened the scoring but with 32 seconds left in the first period, Brady Risk tied the game, with assists from Kiano Robinson and Brett Edwards. Risk scored his second and Robinson notched his second assist, and the Dragons took the lead. With five minutes left in the period, the Kodiaks tied it back up and took the lead at 6:05 into the third. Two empty net goals secured the 5-2 win for Camrose.
As of Monday, The Dragons are sporting a 12-5 record and are sitting in second place in the south, just four points behind the Brooks Bandits. The Dragons were in Banff on Tuesday night, October 30, to take on the Canmore Eagles, results not available at press time. They are back home on Friday, November 2 to take on the Fort McMurray Oil Barons.