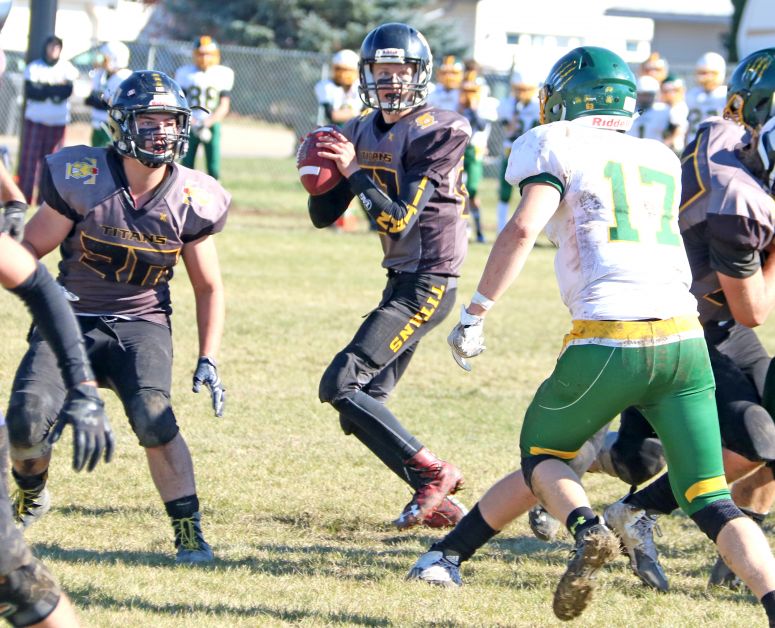 The Senior Titans lost an exhibition game against Taber on the weekend but now have their sights set on league finals in early November.
Drumheller hosted the tier's number one team W.R. Meyers High School on October 20, but fell 20-0 to the Rebels in what was actually a close game with too many missed opportunities, according to their coach.
"We knew they were going to be a very strong opponent," says Ken Fournier, adding the Titans came within 10 yards twice before half time. "We just didn't complete those drives and made some mental errors, but it was just about playing a good game and having a fun night enjoying some fall football."
The Titans head into a bye week with a regular season record of 6-2 in their league and ranking fourth in their tier according to Football Alberta. The team had a strong season despite their bench being thin, with only around 15 players suiting up Saturday.
The issue has had some players on both offence and defence shifts and has caused the team to try some "creative ways to hang in the game," however, two players are expected to return before league finals on November 3.
Drumheller earned top seed in the league and will play at home against the winner of Olds versus Canmore in the Big Sky Finals, with Olds being favoured after beating Canmore 51-7 this weekend. The result of the final will decide whether the Titans play at home or away in the first round of provincials, which they are guaranteed a spot.
Looking back on the regular season, coach Fournier says the team should be proud of themselves, and mentions the strong play from Raiden Kipling, Michael Marshall, Ethan Duncalf, and Braden Mazereeuw.
"We have a lot of young guys contributing. And to be out there and play with only 15 or 16 guys we have a pretty good record."
Game time for the Saturday, November 3 final is currently undetermined.