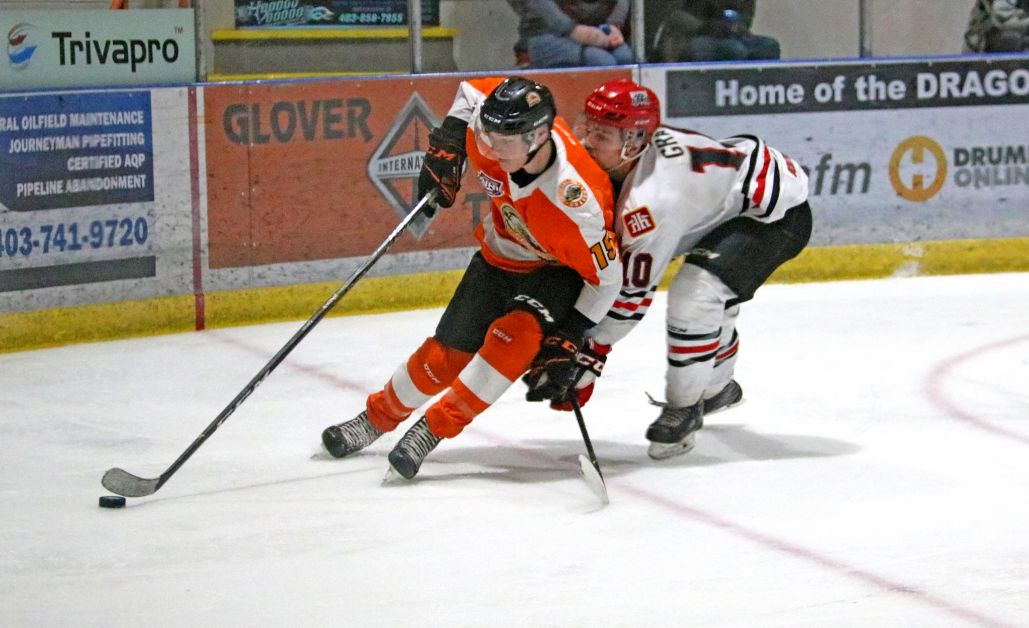 The Dragons are red hot, extending their winning streak to six games after a 5-1 stomping of the Whitecourt Wolverines at home Sunday.
Drumheller got up early and scored four goals in the first period.The team now sits second in their division with a 9-3 record so far this season and only two points behind the Brooks Bandits who are 10-1 on the year. The team hasn't lost since September 22 and have only lost two games in their last nine played.
Coach Kevin Hasselberg likes what he's seeing both on and off the ice.
"We're excited about this group. Number one, they're work ethic has been phenomenal. They are an extremely prepared group and they maximize their time and energy, directing that toward making themselves better players," he says.
What's also noticeable about this squad is the passion and energy they bring to the play. Even up four goals against Whitecourt on the weekend, the team didn't let up on the high-pace and drive for the puck.
"Guys are finding a common unity in what they're doing."
With five days off before their next game in Drayton Valley on Friday, the team is working on upping their power play and other aspects of their play. Hasselberg says the team will be working on "their play without the puck," working to minimize scoring chances and upping the effectiveness of their penalty kill into the 20 to 30 per cent range.
The Dragons have been finding this success despite having seven injured players on the roster, with three key defensemen out of play.
"We're a little banged up on the back-end – it's been a bit of a challenge but or guys have managed it well and the affiliate players have been great filling in with us," Hasselberg said.
In roster news, the Dragons picked up Nanaimo Clippers forward Brady Berger last week. The Drayton Valley prospect stands 6'4" and a hefty 195 pounds. Appearing in 66 BCHL games, Berger tallied 17 points and added 99 penalty minutes.
The Dragons won't be home again until Saturday, October 27 where they meet the Camrose Kodiaks.