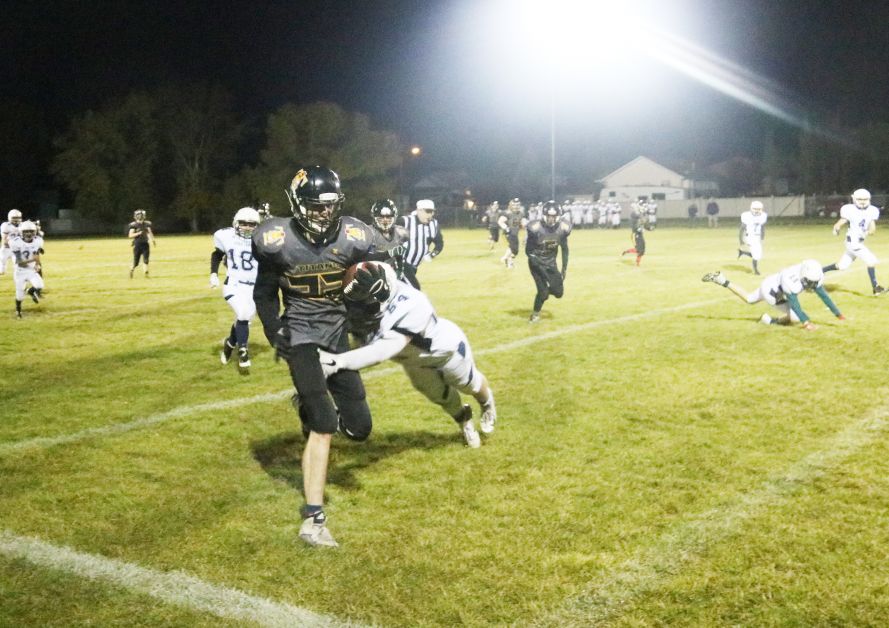 A win by the Senior Titans allowed them to hold tight to the fifth place provincial ranking.
The Titans hosted the Strathmore Spartans under Friday Night Lights in Drumheller September 28. The Titans were first on the scoreboard and led the whole way to a 38-12 victory. Despite the lopsided score, it was a competitive game.
"They (Strathmore) could move the ball really well through the air. They played differently than a lot of teams in our league who play on the ground," said coach Ken Fournier.
He said the team's discipline made the difference.
"I like their discipline level, their ball situational awareness is great," he said. "It doesn't seem like we are stopping drives because of holds or procedures, which is good, we are not giving up big plays. The guys are playing really well against the run and the pass."
Offensively they have lots of options.
"We have been able to distribute the ball offensively to five or six guys consecutively in games. We have receivers getting the ball more, slot backs are getting the ball too, not just a couple of running backs taking all of the load," he said.
They are still playing Ironman ball with about 23 on the bench, however, they have only dressed as many as 16 for games, so many are playing both ways.
"The guys are showing all guts right now, there are some bangs and bruises," he said.
"We have young guys that are playing really well. We have Grade 10 kids coming in and playing two ways and making an impact," he said.
This win comes after a road win over Canmore, and they are fighting to hold on to the top spot in the league. This will give them a bye when playoffs get underway. They can firm up that spot this Saturday as they host Canmore again.
"If we want to have home-field advantage for the playoffs, we have to win or not lose by more than 11. What it really comes down to is that we have to put our work in. It is going to be a business like game, we are wanting to get it done."