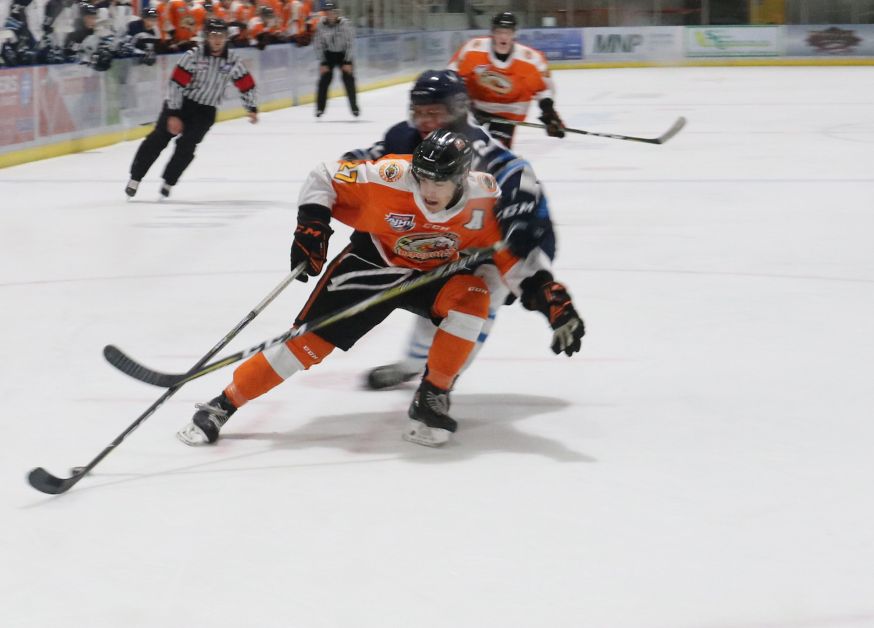 The Dragons split their games at the AJHL Showcase Weekend in Camrose and are only four points out of the top spot in the Viterra AJHL South.
The Dragons were sporting a 3-2 record going into the team's first matchup with the Fort McMurray Oil Barons on Thursday, September 27 in Camrose. Shane Ott opened the scoring for the Dragons, but the Oil Barons tied it up before the first period was through. Again, the Dragons opened the scoring in the second period. This time Kaden Hanas scored midway through the period, and again the Oil Barons equaled it up before the period was up.
In the third period, the Oil Barons scored short-handed 6:34 in, and then followed it up with a powerplay goal, taking a 4-2 lead. Brady Risk scored with five minutes left, but two more unanswered goals from the Oil Barons ended the game 6-3. The Dragons outshot the Oil Barons 32-20.
On Sunday, they faced their second north division team this season as they took to the ice versus the Drayton Valley Thunder. The Dragons looked dominant as Derrick Budz opened the scoring just three minutes in. Roc Truman scored just 10 minutes later. The Thunder scored on the power play with 54 seconds left in the period.
In the second, the Thunder scored two more to take a 3-2 lead, but the Dragons battled back in the third with two goals from Braydon Nicoletts, Brady Risk and a second from Budz, to end the games 6-3. The Dragons outshot the Thunder 40-21.
The Dragons are sporting a 4-3 record, but in a tough South Division, that puts them in fourth place. They are hoping to make inroads as they face the Camrose Kodiaks Friday, October 5 at home. On Sunday, they are on the road to take on the Okotoks Oilers.