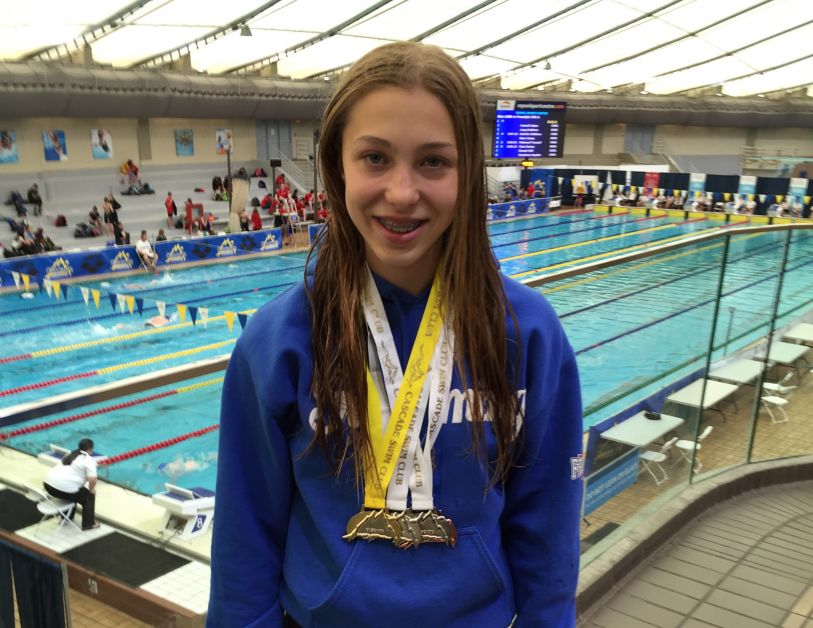 A local swimmer who has been collecting medal after medal hopes to bring home a few more from the Alberta Summer Games this weekend.
Ava Harrington, 12, has regularly made news for finishing in top places at provincial and local swim competitions, most recently earning three medals at the Alberta Summer Championships earlier this month.
"Ava is a gifted individual," says her coach Sheila Martin of the Canadian Badlands Aquatic Club. "Watching the commitment and passion she puts toward swimming is a privilege and I have no doubt this girl is going to achieve great things in the world of swimming."
While Ava and her family are often juggling school, work, and athletics, with Ava creating her own schedules to balance homework and other commitments, she says swimming is a natural passion of hers.
"I like the adrenaline it brings," she says. "You're trying to get the best times so you're competing against yourself but you also want to get the best place."
"We're on the road a lot because she plays other sports as well, but the cross-training is good for her, too," says mother Janice Danchek. "She's really well rounded because of that. She loves it so it makes it easy for us to take her to meets, practices, and competitions."
She will be competing in six events this weekend against 200 other athletes in her first appearance at the Alberta Summer Games.
"I'm excited, it'll be new to me," Ava says. "I'm on a team with most of the kids I'm used to competing against and I want to see my friends," says Ava.
Outside of swimming, the athletes will get to enjoy a carnival night, a celebration of achievement banquet, and the athletes get to stay in an athletes village without their parents.
After she returns from the games next week, Ava will finally have a chance to enjoy summer break when she and her brother will spend a month at their grandparents' in Nova Scotia in August.
When she gets back it'll be back to school and back into the pool to continue training and improving to meet her next goal -- nationals. She already has the Canadian West qualifying time at the age of 12, but has to wait until she's 13 to qualify for competition.
After that, she already has dreams of representing Canada in the Olympics.