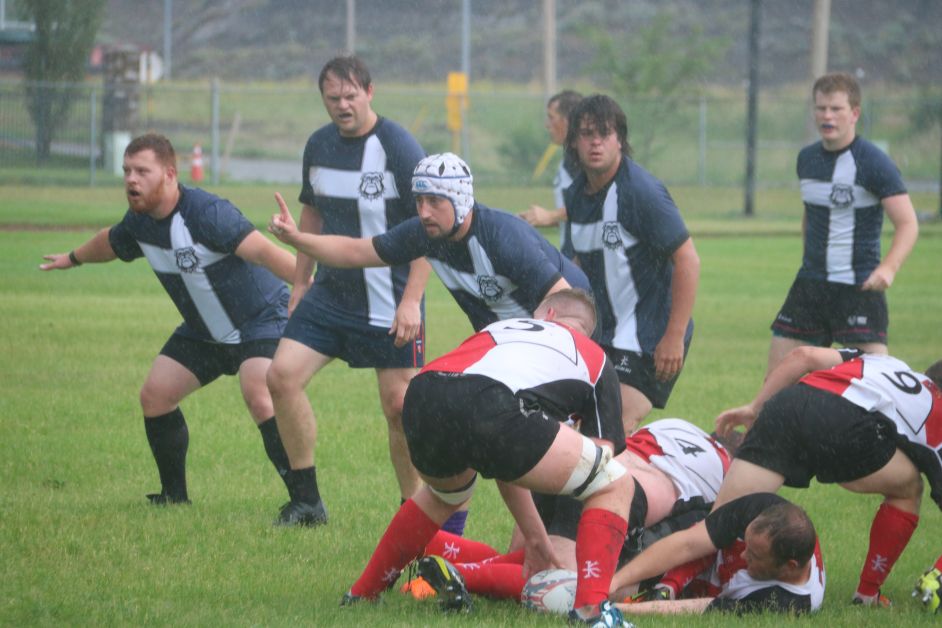 The Badlands Bulldogs/Red Deer Titans are undefeated at home after beating the Calgary Knights on a stormy Saturday night.
After a delayed start due to lightning, the Bulldogs braved rainy conditions against the Knights on June 23. The game started off slow with a 7-5 score at halftime but the squad cruised to a 22-5 finish and won their third straight home game of the season.
"The knights are always a very tough team and as expected they brought a good side. Fortunately we were up to the task. We were happy to come away with a win considering their skill and physicality" said coach Sean Tindall.
This was the first game for Bulldogs player Garrett Copp, who previously played university-level football. The game also saw Ron Silva return to the field for the first time following a shoulder injury. Originally from Sri Lanka, Silva previously played professional rugby in Canada and overseas and recently coached the Stettler Wildcats girls' rugby team through an undefeated season, which ended with a silver medal at the provincial championships.
"I was concerned joining a new team and it was my first game following my injury but the team welcomed me and gave me the courage to play my first game back...we played as a unit" said Silva.
The team also donned their new jerseys at the game, supported by their 2018 gold sponsors Cervus Equipment of Trochu and Drumheller.
"We're so thankful to Cervus for supporting the club" said April Harrison from the Bulldogs, "we have 4 players from Three Hills and Trochu, which just underlines that this team is open to anyone from the area that's interested in giving rugby a try."
The squad also wishes to thank the Aquaplex for staying open late for players to shower and to Big Country Graphics for their work on the jerseys. The Hanna Hawks football club also donated post pads which made the game possible. EMR Morgan Miller also volunteered her time to provide medical support on the sidelines.
The Bulldogs/Titans face the Calgary Irish for the return game in Calgary on Saturday July 13 at 7:30 pm.