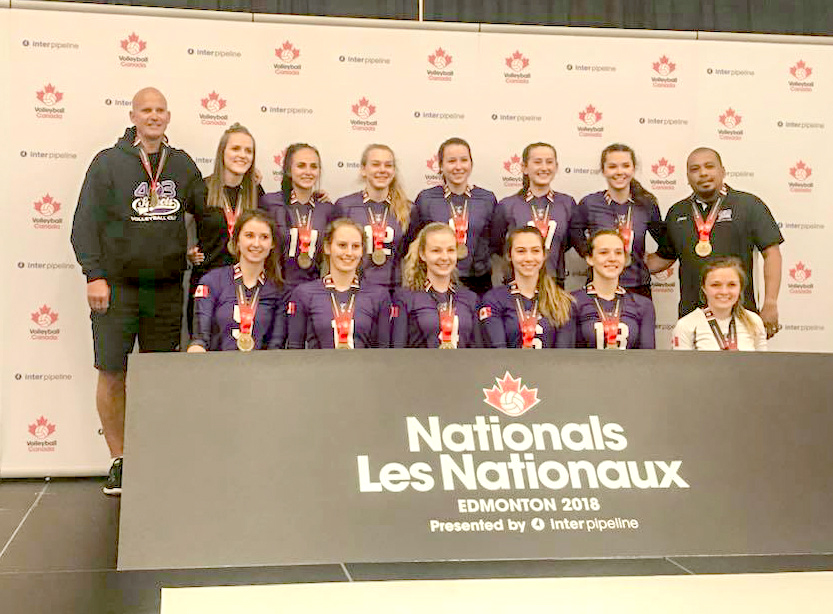 The U18 403 Selects girls volleyball team has struck gold at Nationals in Edmonton last weekend, May 16-22.
The hardworking team placed first with a gold medal by the end of the week long tournament.
"For our team, we ended up losing most of our games on both the first and second days so we moved to Tier 4," explained Alia Nielsen, a Delia girl who plays for the 403 Selects in Calgary. "We were ranked already in Division 1 because we placed fifth at provincials. We ended up on our third day winning all of our games so we ended up with a Division 1, Tier 4 gold medal."
Nielsen marvelled at the level of play and distinctive styles the tournament had to offer.
"It's always fantastic because throughout premiers and provincials you are playing the same teams over and over again so really just to see the difference in play between provinces like how the eastern provinces play a little bit differently than the western provinces. They will position differently. That was really neat to play against and have a more diverse number of opponents. It was just amazing to see the level of volleyball when you have the top teams in the country playing against each other which was pretty phenomenal," said Nielsen.
The season has stacked up to be a great one for the 403 Selects with the help of skilled coaches. The team hovered at the fifth and sixth place mark in the province throughout the season.
"It's definitely been a great season. We were really lucky to have such great coaches that we did," said Nielsen. "It was a really good season for development and fun even though it is such a high level in division one it is still fun."
Nielsen and her sister Sonya have travelled to Calgary three times a week for practice since December. Sister Sonya Nielsen placing top five in Canada as they placed first in Division 1, Tier 1 for their U15 age group.
"They went undefeated throughout the whole tournament until their last game which was a quarter final," said Nielsen. "They ended up losing in the third set which was really disappointing but overall they only lost one game. They had actually beat the team that won the entire tournament so they had a super successful weekend."
Alia was proud of her little sister.
"Just watching her thrive under excellent coaches and in such a competitive, high level atmosphere they are not used to and seeing her succeed was really cool," said Nielsen.
The Delia local plans to play for another season despite the fact the season is now over.
"I'm really excited to see what next year brings," said Nielsen.
Cera Cawiezel and Grace Spitzer of Munson also played for the Strathmore Chaos where they won a Division Three silver medal at Nationals as well.