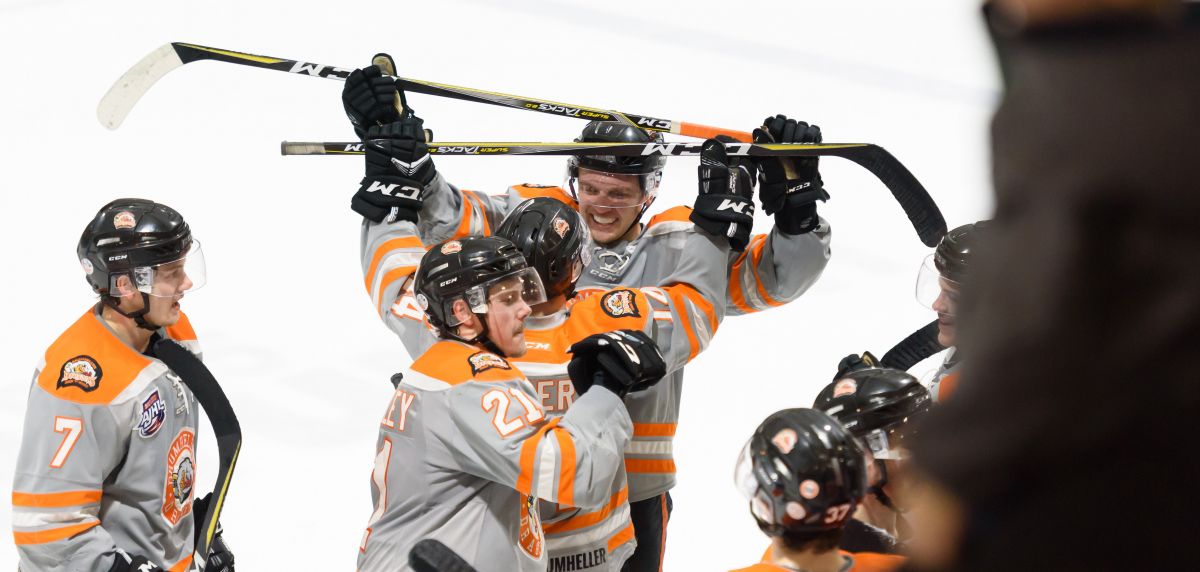 The Drumheller Dragons have lived to fight another day in the second round of the playoff series.
The team rose to the occasion as the Brooks Bandits visited the Dragons den for a second night in a row on Tuesday, March 20.
The Dragons headed into last night's game trailing 3 – 0 in the second round series. The Bandits won Monday evening with a score of 6 – 1 but that didn't deter the local hockey team from coming back with a vengeance.
The Dragons outshot the Bandits in the first period 12 – 6, but it was scoreless heading into the second.
Second period brought back to back scoring between the rivals.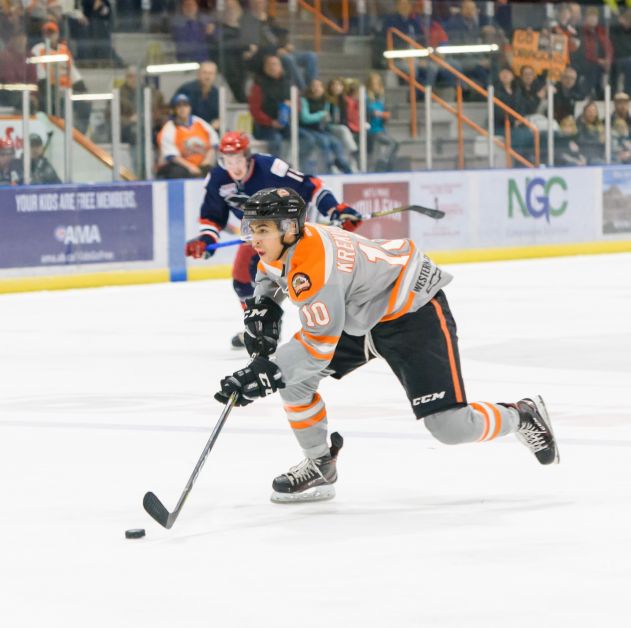 Tyler Kreklewich, 10, makes a breakaway. The Drumheller Dragons faced off against the Brooks Bandits for Game 4 of the second round of playoffs on Tuesday, March 20. This game was the final do or die for the Dragons as the Bandits won the last three games. The Dragons came out on top and won 3 – 2. Mailphoto by Terri Huxley

The Bandits were on the scoreboard first, but Brett Edwards scored on the power play to tie the game. Two minutes later Tyler Kreklewich put the Dragons up 2 – 1 to end the second.
Dragons fell asleep in the first minute and a half of the third period as the Bandits hit the back of the net tying the game at 2 – 2. At the 14:42 mark, Edwards scored his second goal of the game which ended up being the point that led the Dragons to victory.
With this win, the Dragons will head back to Brooks for Game 5 this Friday, March 23.
Up to this point, the Bandits have been dominating the series and bested the Dragon's in Game 1, with a score of 6 – 1. Derrick Budz scored the lone goal for the Dragons in the third period assisted by Tyson Scott and Bradley Stonnell.
Game 2 on Saturday, March 17, was more competitive. The Bandits went up two goals early before Jordan Taupert scored with five minutes left in the first period. The Bandits banged in two more in the second before Slater Dykema scored for the Dragons to end the second period down 4 – 2.
Brooks kept pressing in the third period scoring seven minutes in. Just 30 seconds later Troy Dudley found the net, but it was too little too late and the Bandits won 5 – 3.
On Monday night, March 19, the Bandits were in Drumheller for Game 3. The Bandits outshot the Dragons 20 to 16 through the first two periods, and went up 5-0. Markus Boguslavsky scored seven and a half minutes into the third period, but that was all the Dragons could muster. Brooks walked off the ice with a 6 – 1 win.
The Dragons prepare for Game 5 on enemy territory this Friday, March 23. Puck drops at 7:30 p.m.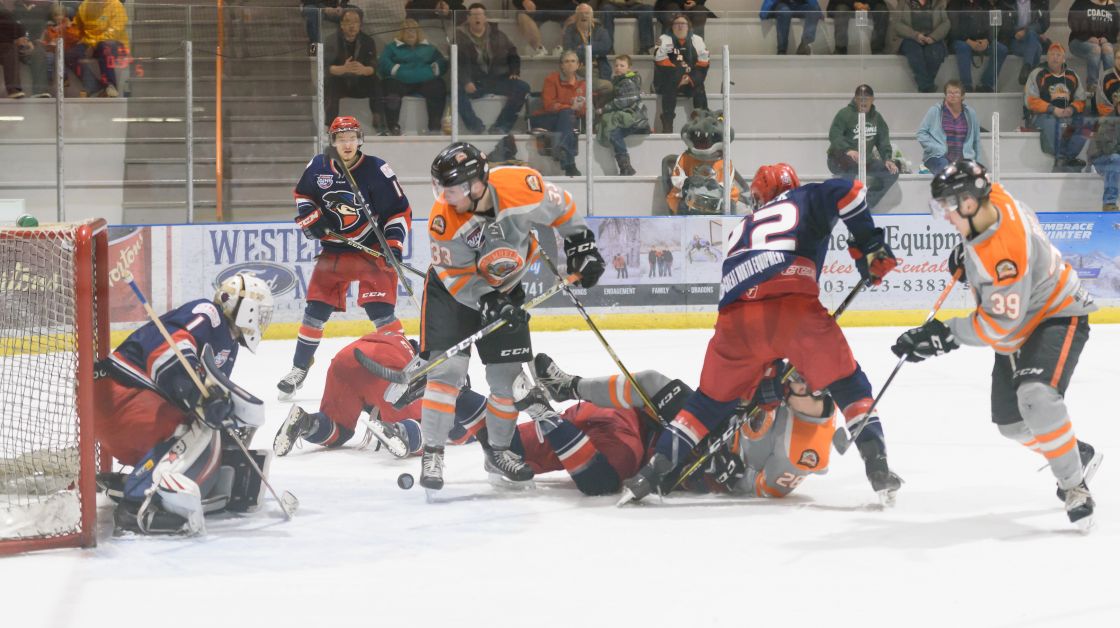 The Drumheller Dragons attempt to score on the opponents net in the second period. Mailphoto by Terri Huxley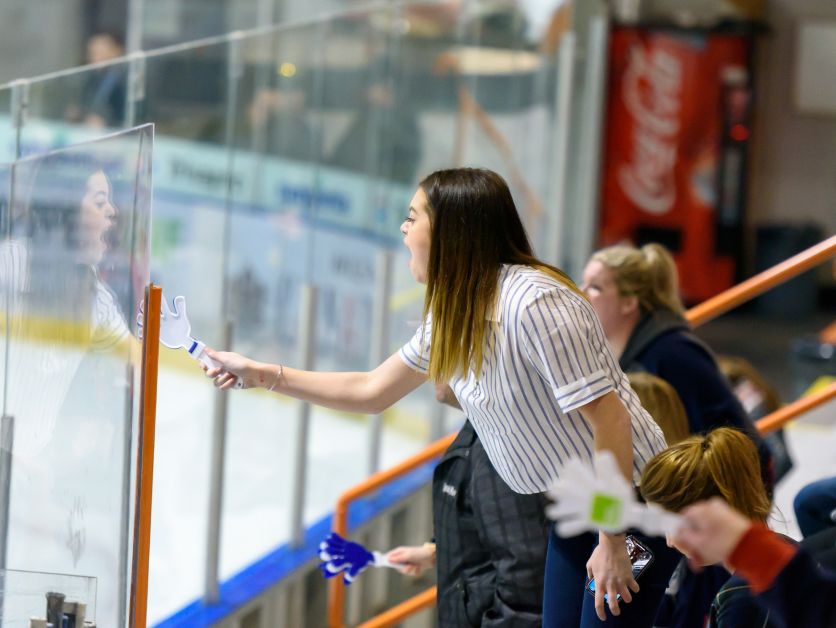 Brooks Bandits fans got heated, yelling at the refs after a 'bad call'. Mailphoto by Terri Huxley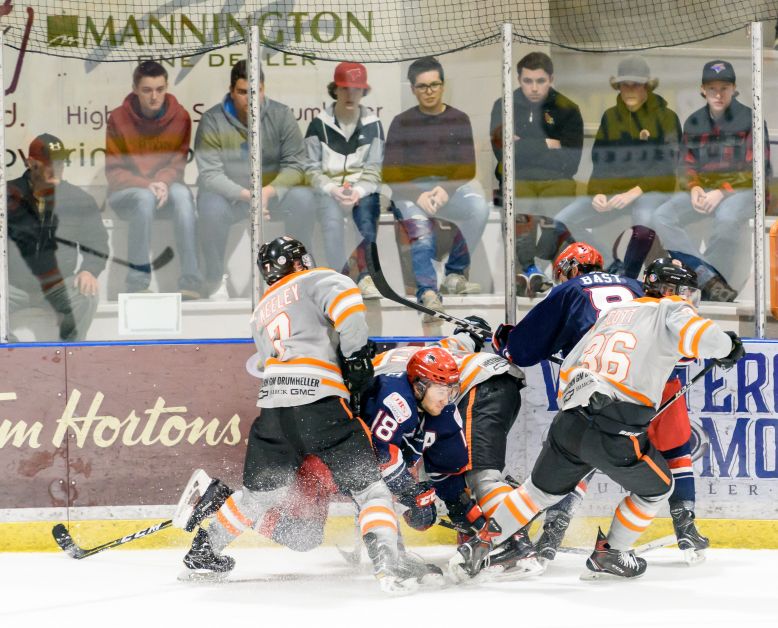 The Dragons and Bandits game did not end without many scrappy fights for the puck. Mailphoto by Terri Huxley