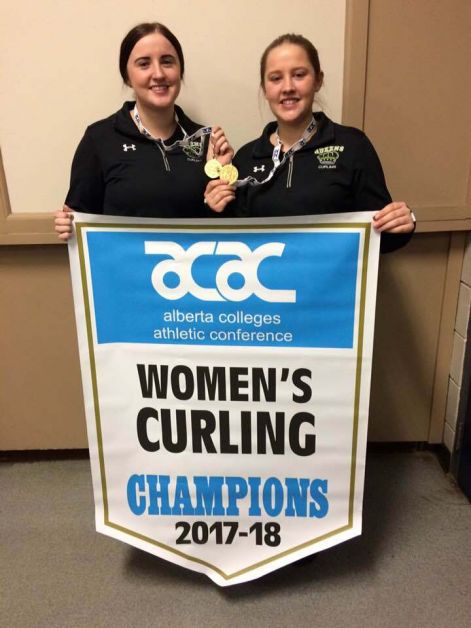 Sisters Katie and Shelby Primrose of Rumsey are off to the Canadian Collegiate Athletic Association (CCAA) Curling National Championships in Leduc from Saturday, March 24 to Wednesday, March 28.
Both are current students at Red Deer College (RDC). Katie is working towards her Bachelor of Science in Agriculture and plays as lead for the curling team. Shelby on the other hand is in her first year of Business and plays second.
The women's team played in Provincials where the top three teams move on to the National Championships.
They started out strong winning all three of their round robin games.
"I don't think we played eight ends during round robin. We were strong and then we got in to the 1-2 playoff game against Grant MacEwan (University) and then we played them in the final again," said Shelby. "So we played them three times back to back to back."
Katie and Shelby are pleased with the results of last weekend's tournament.
"I think it was really satisfying, I mean the RDC women's team hasn't won Provincials since 1982 so it's kind of satisfying to go into Nationals knowing that you won Provincials," said Katie. "It gives you that extra boost like you are more motivated to be there."
Shelby felt the team would do well before Provincials even began, due to the high skill level and focus the team has continually exemplified this season.
"We felt pretty confident going in with our team, we did really well at the winter regional and we knew we could do it so we just stayed focused and curled really well," said Shelby.
This will be Katie's second time competing at the national level. The RDC team won top place last year and are expecting to defend their title.
The Leduc Recreation Centre is hosting four Canadian Championship curling events over nine days. The 2018 U SPORTS/Curling Canada Curling Championships and the 2018 CCAA/Curling Canada Championships will be from March 24 to 28. The 2018 Canadian Wheelchair Curling Championship will happen from March 26 to 31 and the 2018 Canadian Mixed Doubles Championship will be from March 29 to April 1.
The facility has become a central hub for large events as the BMO Curling Rink inside the large recreation centre has eight sheets for participants to work with.
Both sisters are happy to be on the ice with someone they have curled with for years.
"It's definitely a positive curling with a sibling out there," said Shelby.
Sara McMann (skip), Brett Day (third), and the Primrose sisters make up the winning team with coach Brad Hamilton at the helm.
"Three of us won Nationals last year so it is exciting to go back," said Katie.