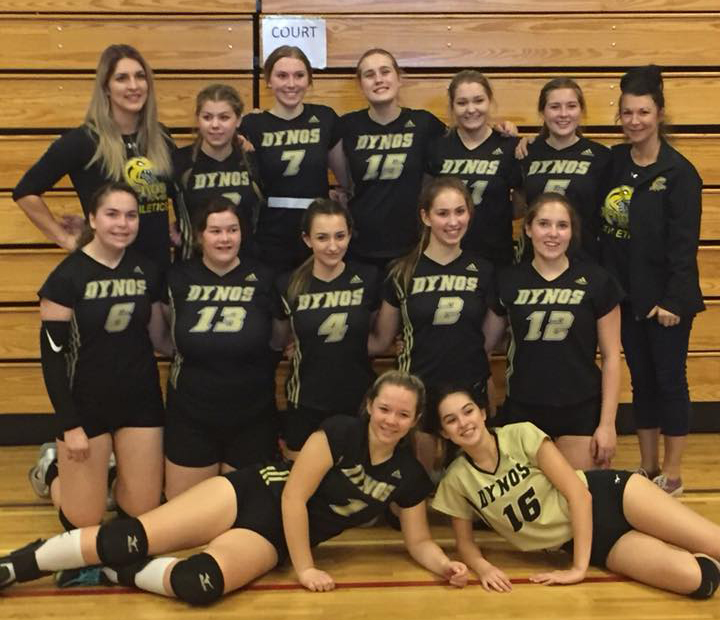 The DVSS Senior Girls Volleyball team wrapped up their season at the regional tournament.
The team headed to Hanna for their Regional tournament Saturday, November 11. This comes after competing in their league championship. The Dynos topped the Three Hills Royals, but fell to Acme to place second.
The tournament format was the top two teams from each pool have a guaranteed spot at Zones. Zones are hosted in Brooks at St. Joes, resulting in St. Joes having an automatic place in zones.
The Dyno's first round of pool play was against the Holy Cross Collegiate Hawks from Strathmore. A nail-biting first set with DVSS coming out in the clutch with a 30-28 win. Hawks woke up in the last two sets, winning both with scores 15-25 and 10-15.
"The girls played well! We had played at a tournament Holy Cross hosted about a month ago," reflects coach Erica Crocker. "We didn't match up with them, though they did take gold where we placed bronze. We knew they were going to be a tough team, though the girls played admirably."
Captains Mikaela Koustrup had six kills, serving a run of three, three total blocks. Grace Spitzer had three kills and 25 digs.
The second match was against the Three Hills Royals, which the Dynos had just defeated in league playoffs, securing second place in the league. After the entire gymnasium held pause for our veterans, pool play continued. The Dynos lost the first set, 20-25 and came out fierce in the second set winning 25-11, forcing a nail-biting third set, the first to 15 points.
"The third game was particularly important because it would have given us the advantage in our pool and increased our chances of securing our spot in Zones. Basically, we had to win it in order to go on."
Unfortunately, this set resulted in a loss for the Dynos, with the final score of 15-17, giving the Royals the edge in the pool. "It was nail-biting. We were down 10-14 and we caught a run of serves that got us back up to 14-14. We then lost the side, 14-15, got the side back, 15-15. At this point, I'm pretty sure Carmen [co-coach] and I were holding our breath for what felt like an eternity.
We lost our serve, 15-16 then the Royals served a tough ball that our defense could not return."
"Tough loss, but it's all a part of the game," said Crocker.
Koustrup had five kills, three serving aces, serving run of three, two blocks and two digs. Spitzer had 32 digs in the back row and Wright had one kill, one ace, and 20 assists.
The Dynos then played the hosting team, Hanna Hawks, for their last round of pool play, winning both sets with scores of 25-15 and 25-23.
Koustrup had and five kills, one ace, run of three, three blocks and one dig, Spitzer who played had a total of two kills, one ace, 18 digs. Wright with two kills, 10 assists; Hilchey with five kills, two aces, serving run of seven, and two blocks. Zacharuk with six digs and one assist; Caweizel with four kills, four aces, serving run of seven, one block, 12 digs and one assist; Thompson had nine digs, and Scott with serving run of three, one block and 10 digs.
The Dynos did not end up playing their crossover because the team hosting zones left [St. Joe's], which resulted in no crossover.
"It's too bad we didn't get to play our last game, but it wouldn't have changed our seeding at that point. All three teams in Pool A are secured into Zones, with Holy Cross Collegiate and Three Hills Royals from [Pool B] secured as well. At this point, if there is a team that drops out or some sort of really awesome magic moment happens, we will be headed to zones. Otherwise, our season is complete." concludes Erica.
This is Erica's third consecutive season coaching DVSS Senior Girls Volleyball, alongside Carmen Spitzer who has been coaching with Crocker for the last two seasons.
"It's been our best year yet, which I do say each year as our program progresses. We've done really well this year, placing second overall in our league, bringing home three bronze, and a B finalist in non-league tournaments," Crocker continues. "Last season we won only one league game, and silver at one tournament.
The year prior, we didn't place in any tournaments, nor win league games. My first year, we only had 10 girls try out. The second, only 12. This year we had 22 girls try out. I hope volleyball continues to grow in this community, and that the love for the sport is discovered within these students. That was my goal when I started volunteering as coach three years ago. "We're making great progress."
DVSS has five seniors graduating this year. Kali Bedu-Olsen, Brayden Peters, Eden Hilchey, Payton Zacharuk, and Captain Mikaela Koustrup.