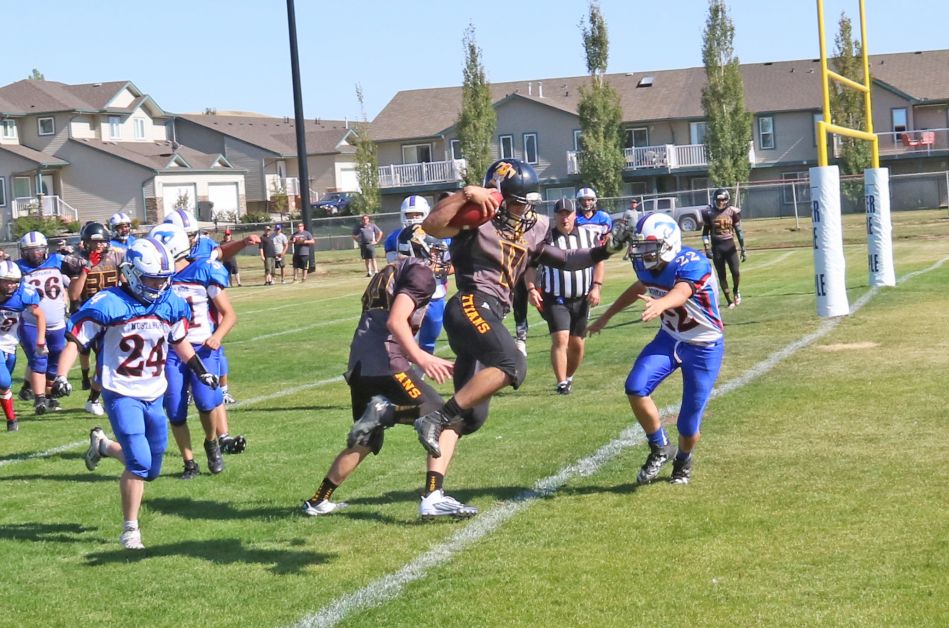 The Senior Titans looked tough on their first outing of the season shutting down Pincher Creek.

The Titans opened the season last Saturday at home versus the Mustangs. By halftime, the Titans were up 12-0 and didn't look back as they cruised to a 32-0 win.

Coach Ken Fournier was happy with the team's performance.

"We didn't start that bad, everyone seemed to be playing pretty good," said Coach Fournier. "Even with the low numbers, the guys held them pretty good."

This year the Titans are struggling to get enough players out. Despite this, a number of players were on the field on offense and defense, they were resilient.

"We moved the ball really well, both on the ground and in the air, which was nice to see," said Fournier.
He adds they have an effective new duo of quarterbacks in Dylan Baires and Michael Marshall.
One advantage of having lower numbers, according to Fournier is the players are engaged.

"The guys are picking up on it quite well. With the numbers we have right now, it is a little bit easier to work and refine the game in smaller areas," he said. "Some of the guys are playing two ways and are effective on both sides, which is great."

The Titans begin league play on September 2 as they head to Canmore.

"Canmore is an up and coming team. Last year was one of their biggest seasons and they are going to look to build on that.
They didn't graduate many players so they will be a tough opponent," said Fournier.