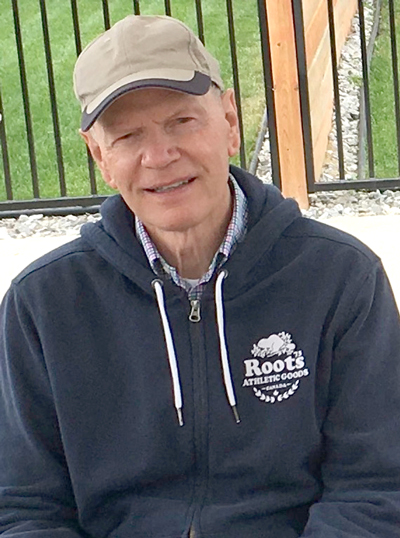 SPENCER
Chuck
November 5, 1947 - January 4, 2022
With heavy hearts, we announce the sudden passing of Chuck Spencer, beloved husband of Lynne, on Tuesday, January 4, 2022, at the age of 74 years. Born November 5, 1947, in Preston, Ontario, to Cyril and Irene, Chuck spent his formative years in the house on Fountain Street hill, a converted dairy farm that overlooked the small town. A sports enthusiast, Chuck played hockey and was a member of the Preston High School Football team. Chuck attended the Stratford Teacher's College, where he accepted Lynne's invitation to the Sadie Hawkins Dance. The two were married on August 16, 1969. With teaching careers in full swing, Chuck and Lynne began their family. In 1974, Chuck decided to leave teaching to pursue his Bachelor of Arts Degree at Sir Wilfrid Laurier University in Waterloo, Ontario. Following graduation, Chuck began his distinguished career with the Canadian Imperial Bank of Commerce. After many years of branch management, Chuck accepted a position at the Calgary Data Centre in 1994, from where he retired in 2006.
Chuck was a faithful Christian, avid learner, storyteller, hobbyist and family man. He loved his children and grandchildren, and he spent countless hours playing, hiking, biking, painting, spectating and working with them. He loved puttering about his acreage on Monarch Hill, travelling and spending time at the Pioneer Trail Senior's Centre. Chuck and Lynne cultivated and cherished many friendships. Chuck's greatest joy was bringing his children and grandchildren to Hawaii to celebrate their 50th Wedding Anniversary.
Besides his loving wife, Lynne, Chuck is survived by his daughter, Jennifer (Don) Ferro, son, David (Christa) and daughter-in-law, Biserka; grandchildren, Christian, Ben, Adrian, Maria, Jacob and William; sister Barbara Debrusk; brother, William (Mineke), as well as numerous nieces, nephews and their families. Chuck was predeceased by his parents, Cyril and Irene, and his son, Peter.
Family and friends are invited to pay their respects between 5:45 pm and 6:45 pm on Thursday, January 27, 2022, at St. Anthony's Catholic Church (178 3rd Street West, Drumheller, Alberta). Prayers will follow at 7 pm.
A private Funeral Mass will be celebrated at 11 am on Friday, January 28, 2022, at St. Anthony's Catholic Church, 178 3rd Street West, with Father Lukas Drapal as celebrant. Burial will follow at the Drumheller Cemetery.
Flowers are gratefully declined. For those who wish, memorial donations may be made to Rosebud Theatre.