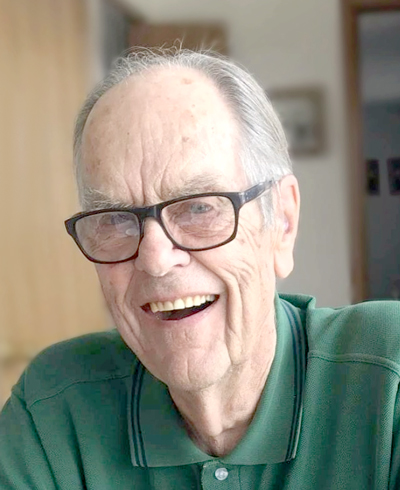 DAHL
Svend Aage
July 4, 1932 - November 6, 2021
Svend Dahl passed away peacefully on November 6, 2021 at the Drumheller Health Centre.
Born in Drumheller, Alberta, Svend was the first child of Ejler and Signe Dahl (Lund). He grew up in Rosedale with his younger sister Mary and always enjoyed spending time in Dalum at the farm of his grandparents Laurits and Oline Jacobsen. He worked in a mine near East Coulee when he was a young adult. When his grandfather passed away in 1949, Svend and his Aunt Karen farmed the land with the helpful guidance from close neighbours. On May 26, 1956 Svend married Ruth Jensen and moved to the farm of his grandparents. They spent the first winter in Calgary where Ruth worked at the Motor Car Supply while Svend worked for a brick layer. The next spring they returned to their Dalum farm where they raised two daughters, Susan and Becky.
Svend loved the farm, the community, his friends and his family. His life in Dalum was exactly what he wanted. Svend enjoyed farming and driving around to look at the grain fields and countryside. Family vacations were so much fun but he was always happy to come back home. Svend spent many happy hours in his workshop making wooden gifts for family and working on his antique cars and trucks, always thinking about the vehicle that he wanted to get next. He had many interests but his visits with family and friends meant the most to him. Svend will be sadly missed by his family.
Svend is survived by his children Susan Adam and Becky Dahl, grandchildren Nadine Adam and Melanie Adam, great grandchild Amelia Weitzel, sisters-in-law Eleanor Jensen and Pauline Lund, step-sister Helga (Bob) Sanderson and many cousins, nieces and nephews.
He was pre-deceased by his wife Ruth Dahl, sister Mary McKinnon, sister-in-law Rita Lund, brothers-in-law Leo Jensen, Ernie Lund, Jim McKinnon, and step-brother Harold Lund.
Due to the current guidelines, we will be having a small family gathering to honour Svend.
In lieu of flowers, donations can be made to the Drumheller Health Centre, the Dalum Community Hall Association
or the Bethlehem Lutheran Church in Dalum.
Courtney-Winter's Funeral Home in care of Arrangements. 403-823-2666