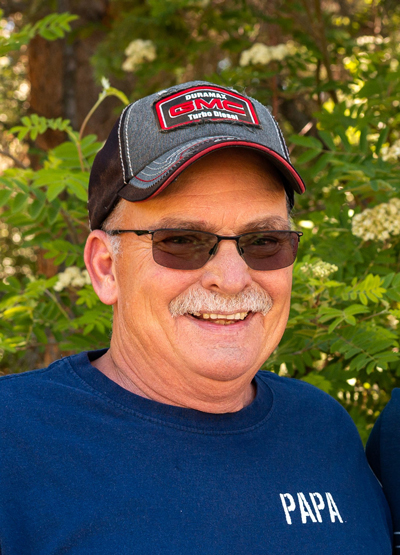 BRYANS
Patrick
On October 3, 2021, Patrick Bryans passed away with the love of his life by his side in the Tom Baker Cancer Centre at the age of 61. Born in Medicine Hat, Alberta, the family moved to Creston, BC when Pat was a young child. He enjoyed adventures in the mountains, Army Cadets, and playing baseball in his earlier years. As an adult, Pat moved his own family back and forth between BC and Alberta a couple of times before settling in Alberta.
Grandkids and ice cream, camping and quadding, fishing, hunting with the big boys, riding his motorbike, and farming filled his heart in his later years. His big heart, sense of humour, straight-shooter qualities, and get it done attitude will be sorely missed by his family and many friends.
Miss Me But Let Me Go
When I come to the end of the road
And the sun has set for me,
I want no rites in a gloom-filled room;
Why cry for a soul set free?
Miss me a little, but not for long
And not with your head bowed low,
Remember the love that once we shared,
Miss me, but let me go.
For this is a journey we all must take,
And each must go alone.
It's all part of the master plan,
A step on the road to home.
When you are lonely and sick at heart,
Go to the friends we know.
Laugh at all the things we used to do,
Miss me, but let me go.
– Unknown
The family is grateful for donations made in Pat's
name to any one of his favourite charities: Lung Cancer Canada - https://www.lungcancercanada.ca STARS Air Ambulance - https://stars.ca or Make A Wish Foundation – Canada https://makeawish.ca