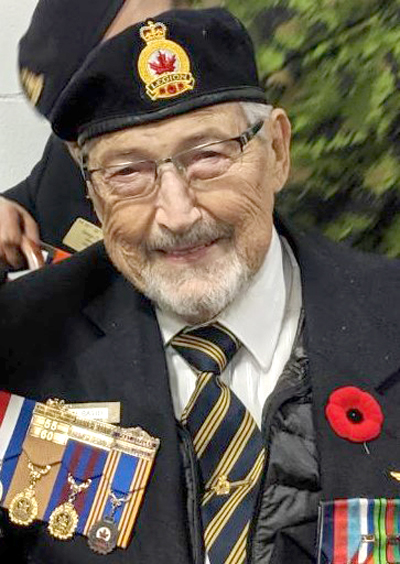 BAIRD
Stanley Charles
July 11, 2021
Stanley Charles Baird died on July 11, 2021 at the age of 97. Well done good and faithful servant, at peace walking with His Lord and Savior.
Stan was born in Calgary, Alberta. He joined the army in March 1943, and after training in Winnipeg, sailed to London, England on the RMS Queen Mary. Stan was an infantryman in the Pioneer Platoon of the Canadian Scottish Regiment. He wielded a rifle and flame-thrower, laid and cleared mines, and used other forms of explosives. During WWII, Stan participated in the Normandy landings, as well as battles at Falaise, Leopold Canal, Breskens, Rhineland, and Wagenborgen, among others. He celebrated his 20th birthday in a slit trench as the Lancaster bombers demolished the city of Caen, France. Stan returned to Canada in July 1945 to volunteer for the Pacific campaign, but the war ended during his brief leave.
Stanley transferred to the Royal Canadian Army Medical Corps. In 1949, he was attached to the Princess Patricia's Canadian Light Infantry (PPCLI) in an airborne role, becoming the first medical paratrooper to receive his "Wings." During the Korean War, he served as a
Medical Corporal with a mobile advanced surgical hospital. From 1955-1957, Stan was involved in a NATO peace-keeping tour in Germany alongside the British Army of the Rhine. In 1957, he became Ward Master at Winnipeg Military Hospital and in 1960, was in the Calgary Field Ambulance. In 1963, Stan was deployed to Gaza with the United Nation Emergency Force—from there, he served in Beirut and Cairo. In 1964, Stan received advanced medical training at the Canada Fleet Medical School at HMCS Naden in Esquimalt, B.C.
After retiring from the army, Stanley began his second career with the Correction Service of Canada. He graduated in hospital administration at the University of Saskatchewan and was soon appointed as Senior Health Care Officer in the Health Care Unit at Drumheller
Medium Security Institute. Stan developed programs and policies culminating in Drumheller's first accreditation from the Canadian Council of Hospital Accreditation in 1978.
Stanley retired in 1984 and remained active with many community organizations and projects, such as: Central Alberta Co-op Board of Directors, Drumheller Health Centre Board of Directors, The Legion, and the Drumheller Cenotaph Restoration Project. On his 90th birthday,
Stan made his last move to Surrey, B.C. where he could walk out his patio door, smell the flowers, watch the hummingbirds, and snooze on his couch.
"The greatest use of a life is to spend it on something that will outlast it." — William James
Stanley is predeceased by his wife Dorothy Baird, his son Alistair, his parents James Ephraim and Clara Hilda, and his three brothers: Charlie and Robert Baird, and Maurice Weaver. He is survived by four sisters: Iyla Brewster, Shirley Johnston, Georgia Zerr, and Irene Clarke, as well as several nieces and nephews.
A memorial service will be held on Saturday, September 18, 2021 in Surrey, B.C., and another will be held in Drumheller at a future date. If you wish to make a donation in honour of Stanley, please give to The Gideons International in Canada at gideons.ca.