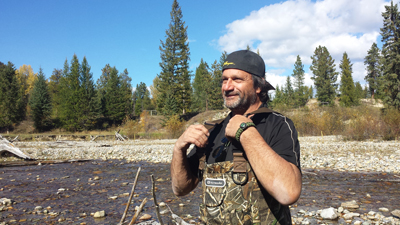 MARUZS
Vincent Clifford
February 3, 1958 - April 3, 2021
Vincent Clifford Maruzs, 63, of Carbon, Alberta passed away suddenly on Saturday, April 3, 2021. Our hearts are completely devastated by his unexpected passing, and the lives of those who loved Vince have been changed forever. We have sadly lost a man who meant so much to so many people. Vince had the most kind, generous, and genuine heart. His presence in our lives will be deeply missed. Although Vince may be gone from us in body, take solace in knowing we all carry a piece of him with us in our hearts that can never be forgotten.
Vince is lovingly remembered by his mother Dorothy Maruzs whom he dearly loved, his children Ericka Anderson (Travis), and Logan Maruzs (Jessie) who all
meant the world to him as well as his granddaughter Alaina Anderson who was his most precious treasure on earth. Also left to mourn Vince are his three sisters,
Sandra Schneider (Rob), Karen Wells (Simon) and Kimberly Stuckless (Rick), as well as numerous other relatives, friends and neighbours. Vince was predeceased
by his father Vincent Maruzs Sr., his grandparents Vincent and Lydia Maruzs and Golsby and Jessie McCracken as well as his Uncle Fred Maruzs and Uncle Don Langley.
Due to current restrictions, a small private family service will be held to honour Vince's memory. At a later date, when permissions allow, a Celebration of Life will be arranged for those who would like to come together and remember Vince.
We would like to encourage friends and family to share written condolences on Vince's obituary page. This can be done by going to myalternatives.ca and searching for Vince's name under obituaries. There will be an option to leave a message if you would like. The family would find comfort in any kind words or special memories you may have to share about Vince.
In lieu of flowers, donations can be made to the Heart and Stroke Foundation or to S.T.A.R.S.