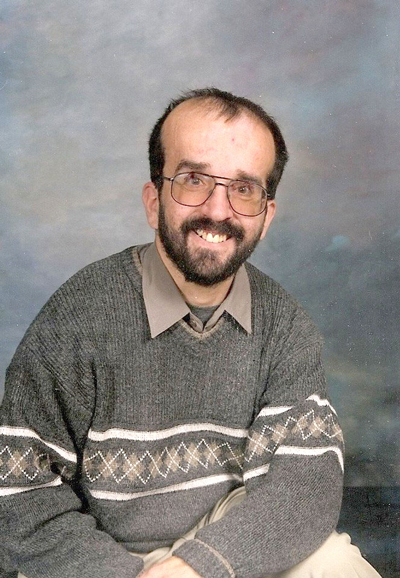 LEONHARDT
Leslie Alexander
September 18, 1962 - January 12, 2021
On January 12, 2021, Leslie Leonhardt was called to his eternal home while at the Continuing Care Centre of the Drumheller Hospital from complications related to dementia. He is survived by parents Ron and Helen Leonhardt, sister Lynn (Clint) Hemming, brother Gordon (Kelly) Leonhardt, sister Karen Leonhardt, numerous nieces and nephews, and a large extended family.
Born on September 18, 1962, Leslie's life took a significant turn when at the age of 22-months he had major brain surgery, leaving him with epilepsy and a variety of physical and cognitive challenges. At the age of six, he began having Grand Mal seizures, which doctors struggled all his life to control.
Despite his challenges, Leslie achieved many things. He attended Verdant Valley School and then Drumheller Valley Composite High School, where he obtained a high school diploma with support from his teachers and parents. He attended a Vocational Training Course at Red Deer College, and the Western Industrial Training Centre in Edmonton. He also spent two years at Canadian Lutheran Bible Institute in Camrose. Leslie joined DARTS and worked at the bottle depot for several years, putting his math skills to use. He volunteered at the Royal Tyrrell Museum and the Drumheller Public Library.
Leslie was active in the 4-H Beef and Grain Clubs, taking part in public speaking competitions and attending various camps. He was baptized and confirmed in faith at Grace Lutheran Church, Drumheller, where he was active with the youth group, then volunteered as a greeter for more than 30 years. Leslie loved hockey, bingo, and walking, especially to Yavis' Family Restaurant.
The family would like to thank Dr. Tlhape and Dr. Mpisi for the care they provided over the years. Special thanks to the staff of Stettler Continuing Care for helping Leslie transition to long-term care. We also owe a great debt of gratitude to the staff of the Continuing Care Centre in Drumheller (Victoria Lane) for their genuine and constant care for Leslie over the past two years, and for their support for our family in his final days.
Leslie's family would also like to extend thanks to the Drumheller community for the support you showed him over the years. We know that so many of you watched out for Leslie. Countless times there were Good Samaritans – mostly unknown to us – who stopped to call an ambulance or cover him with a blanket or take him to the hospital. We have no way of knowing who all of you are, but you have shown what it means to be a community.
In lieu of flowers, donations can be made to Grace Lutheran Church (620 – 2nd Ave. W Drumheller T0J 0Y3) or to the Epilepsy Association of Calgary (316, 4014 Macleod Trail SE Calgary T2G 2R7).