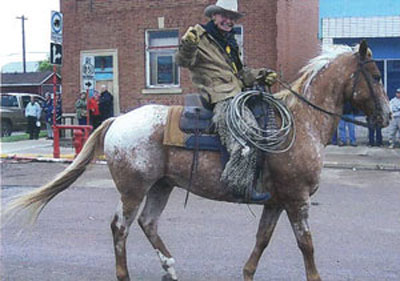 JOHNSON
Murray Kirk
March 10, 1928 - April 26, 2020
It is with the deepest sadness we announce the passing of Murray Kirk Johnson who passed away peacefully on April 26, 2020 at the age of 92 in Hanna, AB. Murray was born on March 10, 1928 in Calgary, AB. He spent the majority of his life on the family farm 5 kms NW of Michichi until retiring to Hanna. As a child, he attended Mount Carmel School until its closure, continued his studies at Sunbeam School, and then finished high school in Drumheller. He then went on to study Agriculture at Olds College with his brother Jim. On August 22, 1964 he married Sharon Alice Peters from Delia and raised two children Dale (Sandra) and Susan. Upon Sharon's passing he remained on the farm until meeting Pat Garez who he married in 2003. With this marriage he inherited a loving extended family who immediately embraced him as their own. Murray was the epitome of Christian values with his kindness, charitable nature, generosity, and unconditional love. He dedicated his life to his family, the homestead, and community.
Raising cattle was his passion on the farm and at harvest he worked alongside his brother Jim for many years. He was a dedicated member of the United Church of Canada, Masonic Lodge, and the Homestead Antique Museum and a leader in both the 4-H Club and Scouts Canada. He took great pride in his family history that he captured in a book published in 2018. Honouring his father Fult – a founding member and bronc-rider - at the Handhills stampede in 2010 was a highlight of his life. He was always the first to help a neighbour or stranger in need and volunteer his time. Another of his loves was for music. For over seventy years he entertained audiences with his fiddle at schoolhouse and barn dances, senior residences and just about anywhere there was an audience and a stage. In his later years Murray mastered creating willow furniture and he often
contributed pieces for charitable auctions or gave his pieces as gifts. Murray is mourned and lovingly remembered by his wife Patricia, children Dale (Sandra), Susan; step-children Judy Elliott (Bill Sanger), Rob (Linda) Garez, Chris (Anna) Garez, and Barb (Jim) Knauft; brothers-in-law Brian Peters (Jan), Allan (Josie) Peters, sisters-in-law Rene (Fraser) Scott, Linda Johnson, and Jean Peters along with many grand-children, great-grandchildren, nieces, and nephews. Murray is predeceased by parents Fult and Stella, brother Jim, wife Sharon, father and mother-in-law Scott and Alice Peters, brother-in-law Keith Peters, and sister-in-law Ruth Peters. The family would like to express our sincere gratitude to all the nurses, doctors and healthcare workers at the Hanna hospital who provided exceptional and compassionate care for Murray over these last two difficult months. Alternatives Funeral and Cremation Services is handling arrangements and we will announce a celebration of life at a later, safer time when we can gather to share stories and the love we all had for this special man.