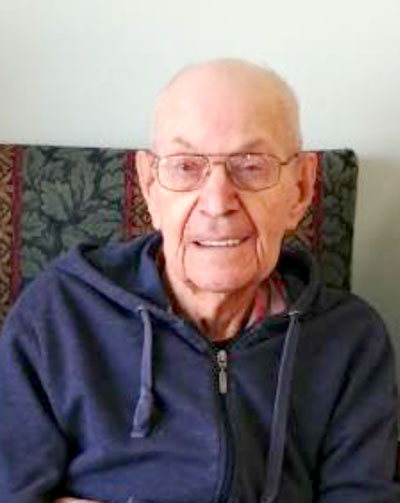 SANDER
Walter Richard
June 28, 1925 - Loreburn, Saskatchewan
March 8, 2020 - Drumheller, Alberta
Walter Sander passed away peacefully at the Drumheller Continuing Care Centre, surrounded by loving family members at the age of 94.
Left to mourn is one sibling, sister, Elsie Pearn of Calgary, AB and a sister-in-law, Leona Sander of Chestermere Lake, AB. Also, his close friends and nephews, Jerry (Marie) Koustrup, Norman (Grace) Koustrup and Egan Koustrup, of Drumheller, their families, and Mac Gordon of Craigmyle, AB with whom Walter spent many special occasions. There are numerous nieces and nephews & their families, living in Saskatchewan, Alberta and British Columbia.
Walter was predeceased by his wife, Mildred, November 19, 2009, his parents, August and Annie Sander, his brothers and sisters-in-law; Frederick (Victoria), Ernest (Verna), Ferdinand and Alfred Sander, his sisters and brothers-in-law; Hannah (Richard) Stephensen, Louise (Godfrey) Youck, Elizabeth (Soren) Koustrup, Wallace Pearn and nephew, Robert Stephensen.
Walter was born at Loreburn, SK and lived with his family on their farm until he ventured out at age 25. He had come to Alberta looking for work. Walter worked on several farms until he acquired land of his own near Munson. He married Mildred Branum on November 25, 1961.
Walter devoted most of his life to grain farming and resided in Drumheller. Walter enjoyed a long and healthy retirement, doing a lot of bus trips, daily walking and going out for coffee. The last year he developed some health issues but always maintained his heart of gold and caring nature, right to the very end.
Family wishes to express their sincere and special thanks to Doctors and support staff at Drumheller Continuing Care Centre for their compassionate care which Walter received.
After cremation, a celebration of life will occur later.