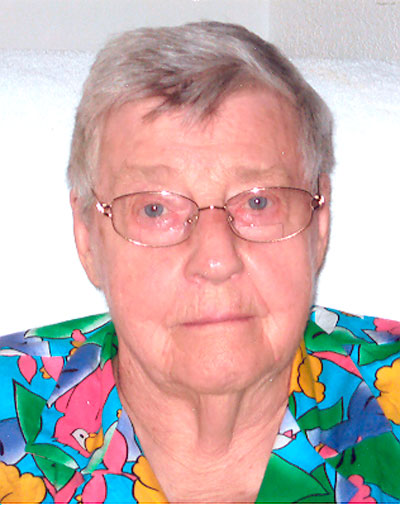 GRENVILLE
Marjorie Annie
(Trentham)
August 4, 1924 - March 7, 2020
MARJORIE passed away March 7th, 2020 at the Drumheller Continuing Care Facility. She was predeceased by her father Harry in 1938, her mother Annie Jane in 1980; her brothers Fred, Harold, Albert and Frank; and her husband Douglas Grenville in 1994. She is survived by her Brother Robert (Bob) Trentham, her SON Arthur (Kandice) and children Richard (Laurie), Chris (Meredith); DAUGHTER Sylvia (Brian) Neill and their children Gerard (Kim) and Suzanne (Ryan) Frank; SON Robert (Bob) wife Sandra and children Alex (Rachelle), Stacey (Mike) Hoppins, Julie (Kevin) Robison, and 14 great grandchildren and numerous nieces and nephews.
Marjorie was born at the family home in the Orkney District to Harry and Annie Jane Trentham August 4th, 1924. She attended Orkney School Grade 1-8, Bay Coulee School Grade 9 and Grade 10 in Drumheller where she stayed in the dormitory the first year it was built. She worked for John Watt, a neighbor, on his farm during the war years. She married Doug Grenville June 27th, 1946. She moved to the Morrin District where Doug and her farmed together for 48 years. Marjorie was an avid gardener and excellent cook. She enjoyed quilting, knitting and sewing. She was an excellent athlete (softball) in her day and enjoyed watching her children and grandchildren in their sporting activities. She will be greatly missed by all who knew her. Interment at 9:00 a.m. at the Morrin Cemetery (family only) followed by Celebration of Life Service at the Morrin Community Hall was held at 11:00 a.m. Tuesday, March 10th, 2020.
If friends so desire, donations may be made to the Drumheller Area Health Foundation, 351 9th Street NW, Drumheller, Alberta T0J 0Y1.
Courtney-Winters Funeral Home in care of arrangements. 403-823-2666.