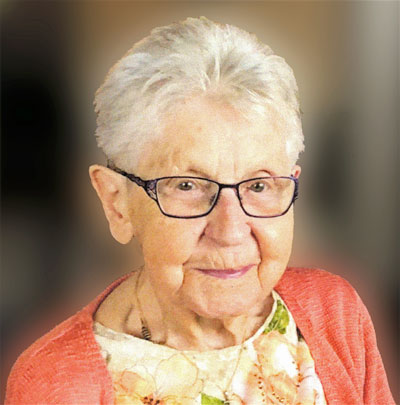 CAMMIDGE
Irene Alice
June 13, 1926 - January 27, 2020
Irene Alice Cammidge was born on June 13, 1926 in Delia, AB and passed away January 27, 2020 in Calgary, AB with her family by her side. She will be sadly missed by her 2 daughters, 2 sons, 8 grandchildren and 17 great-grandchildren. She was born to William and Stephanie Dmytruk, the youngest of 8 children. Irene took her schooling in Delia and lived in the area for 90 years. On October 21, 1945 she married Chester George Cammidge. They farmed North of Delia in the Farrell Lake District for 30 years. There they raised their five children; retiring to Hanna, AB in 1975. Irene lived in Hanna until 2016 when she moved to Airdrie, AB to be closer to her family. In 2017 she moved to St. Teresa Place in Calgary, a Supportive Living Facility. Mom missed her friends in Hanna and talked about them often. Irene is survived by her daughter Linda and Kenneth Marshall, their son Darren and Darla, and grandchildren Breanne and Branden Marshall; their daughter Leanne and Jeff, and grandchildren Morgan and Ryan Ward; their daughter Shellie Marshall and Blaine Jorundson. Irene's son
Harold Cammidge and Janet Podritske, his daughter Carrie and Irv, and grandchildren Hunter and Jake Suchotzky; his daughter Cindy and Warren, and grandchildren Nickolas and Calvin Johnson; his son David and Amanda, and grandchildren Ian, Olivia, Natalie and Cameron Cammidge. Irene's daughter Bev and Ivan Humphrey, their son Geoff and Janeil, and grandchildren Kyle and Paige Humphrey; their son Todd and Charla, and grandchildren Rhealee, Karson and Kolby Humphrey. Irene's son Ken and Claudette Cammidge. Irene is also survived by Douglas's children and grandchildren:
Rick Cammidge; Cheryl, Jordan and Teylor Rolfes; Keltie and Murray, Rex and Levi Wolney; as well as numerous nieces and nephews. Irene was predeceased by her husband Chester in Feb, 2008 and her son Douglas in Aug, 1988. Irene was also predeceased by her parents, 5 bothers, 2 sisters and their spouses; Chester's family, his parents, 1 brother, 4 sisters and their spouses; as well as several nieces and nephews. We would like to express a sincere Thank You to the Special girls and guys who looked after Mom at St. Teresa Place, Grace East, 4th Floor. Your kindness was greatly appreciated and did not go unnoticed. The entire staff, too many to mention, are all very special to us. There will be a Memorial Service
for Irene on February 5, 2020 at 2:00 p.m. at Mountain View Funeral Home (Prairie View Chapel) 1605-100 Street S.E. Calgary, AB T1X 0L4. Donations can be made to Covenant Foundation, for St. Theresa Place, 3C60-11111 Jasper Ave. NW Edmonton, AB T5K 9Z9.
To express condolences, please visit: www.mountainviewmemorial.ca.