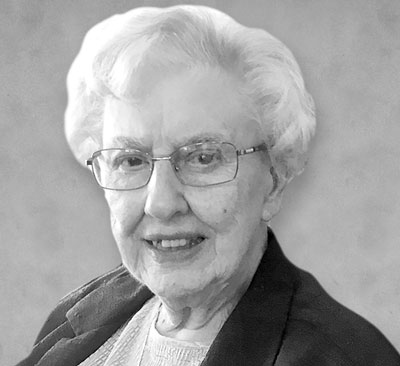 MACPHERSON
Mildred Kathleen
November 5, 1923 – Lemsford, Saskatchewan
January 11, 2020 – Calgary, Alberta
Mildred Kathleen Macpherson passed away peacefully on Saturday, January 11, 2020 at the age of 96 years.
Mildred was born and raised on a farm near Lemsford, SK, where she enjoyed the rural life despite all the hardships that came with it in those days. In addition, as a young adult, she lost her hearing but met this challenge with courage and perseverance. After high school, Mildred went to Medicine Hat and took her business/secretarial training. She used this training to secure jobs first as a business school instructor and then at various oil companies in Saskatchewan and Alberta. Following this, she worked for the Alberta Wheat Pool where she met her future husband. She and Allan had many happy years on the farm in Delia, AB, and thanks to Allan's position at the Wheat Pool, were able to travel to many countries in the world and most of the continents. They eventually moved to Calgary permanently, where they lived in Rideau Towers before moving in to Wentworth Manor.
Mildred will be remembered for her cheerful disposition, her great laugh, her big heart, her amazing memory and organizational skills which she kept to the end of her days.
Mildred is survived by nieces and nephews, Lloyd (Colleen Wood) Shier, Wayne (Cynthia) Shier, Edith (Gerald) Printz, Bob (Sylvia) Macpherson, Marg (John) Bertrand, Bill (Karen) Macpherson, and Janet (John) Mitchell. She is also survived by many grand and great-grandnephews and nieces. She was predeceased by her husband and soulmate, Allan; her loving parents, Lewis and Lila Shier; and her brother Arthur and his wife, Cherrie.
On behalf of Mildred, the family would like to express their appreciation for the care and friendship that both Mildred and Allan received at Wentworth Manor.
A Memorial Service will be held at McINNIS & HOLLOWAY (Crowfoot, 82 Crowfoot Circle NW, Calgary, AB), on
Friday, January 31, 2020 at 2:00 p.m. Reception to follow in the Hospitality Centre at the Funeral Home.
Condolences, memories and photos may be shared and viewed on Mildred's obituary at www.McInnisandHolloway.com.
A tree will be planted in living memory of Mildred Macpherson.
McINNIS & HOLLOWAY FUNERAL HOMES,
Crowfoot, 82 Crowfoot Circle NW, CALGARY, AB T3G 2T3,
Telephone: 403-241-0044.