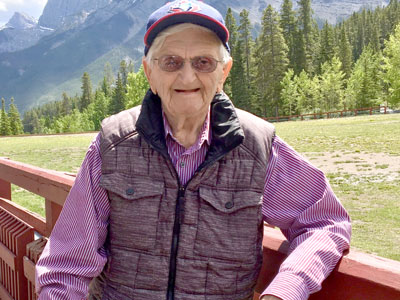 HAMPTON
Grover Latham
(Skip)
July 19, 1932 - December 17, 2019
Grover Latham (Skip) Hampton passed away peacefully on December 17, 2019 after saying good-bye to his family at the Drumheller Hospital.
Skip will be missed by his wife Muriel, daughter Michele (Steve Johnston), grandchildren Chloe and Luke, sister Judy (Jim) Milne and numerous other in-laws, cousins and friends. He was predeceased by his mom Lilah, dad Prather, sister Vee, brother Dawn, brother LeVern, infant sister Darlene, nephew Larry McKee, nephew Neil Hampton as well as other in-laws, relatives and friends.
Skip was born on July 19, 1932 in Drumheller. Most of his life was lived in Rowley except for his memorable high school years in Red Deer and the last 6 years in Drumheller.
Skip and Muriel were married on March 17, 1967. They lived just north of Rowley where they raised their daughter Michele. Skip was always involved in Rowley/Rumsey community activities.
Skip farmed for many years. He had cattle for many of those years and grew crops his entire farming life. Even in his later years he enjoyed going for a drive to check out the crops.
Skip loved his family and was thrilled with the births of his grandchildren and hearing about their activities and antics.
Skip loved visiting both with old and new friends. He always had a story, a joke or a song to share with others and enjoyed a good time.
Skip's life challenges were completed, fulfilled and achieved.
Special thanks to Dr. Olfert, the staff at Hillview Lodge and the staff at the Drumheller Hospital for their exceptional care.
Please join us in celebrating Skip's life at the Rowley Community Hall on Friday, January 3, 2020 at 2:00 p.m. Share a story, share a song and visit.
If friends so desire, memorial donations can be made to Drumheller and District Seniors Foundation for services for seniors at Hillview Lodge.