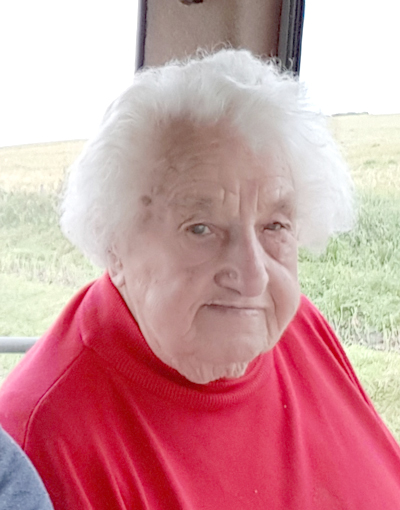 ZIPPER
Josefa - Josephine
(Gangle)
August 9, 2019
Josefa Zipper died after a brief hospital stay Friday,
August 9, 2019 at 4:00 a.m.
She will be remembered and missed by her son Alois Zipper, daughter Mary Stuber (Wayne), grandchildren Grant (Rachelle) Stuber, Shannon (Shawn) Mann, Amy (Blair) Rasmussen and Russel Stuber; her great-grandchildren: Nicole Stuber, Savanna Stuber, Mitchell Mann, Mackenzie Mann, Maddison Mann, Mikayla Mann, Mya Mann, Lyndsey Rasmussen and Jessica Rasmussen; her sister Aloisa Shandl as well as numerous nieces and nephews and their families.
She was predeceased by her beloved husband and partner Anton Zipper 1977, parents Alois 1931 and Maria (Hofman) Gangle 1970, older sister Sofia Hass 1986 and nephew Lois 1974.
Josefa was born in Austria in 1924 where her family ran
a farm and store. Josefa always loved school and when done the required grade eight, worked as an apprentice at cooking school where she learned to make the schnitzel, goulash, apple strudel and plum dumplings friends and family enjoyed over the years.
Josefa met Anton when he came back to Austria on holidays. He had emigrated to Canada in 1928 and homesteaded in Handhills. They got married here on Valentine's Day 1951. Josephine and Anton spent the next three decades working hard together. A typical day started milking cows at 4 o'clock. Then doing chores for chickens, sows, pigs, turkeys and cows before waking us at seven for breakfast. Dad already had 2 fields worked when we went by in the morning on the bus. They taught us early to have fun working, talking and laughing as we fed pigs, carried water to chickens, shovelled manure for cows, took 1000 turkeys for walk, gathered eggs, separated cream, picked rocks and stacked hay by hand.
Sunday's Josephine's family spent going to church, resting or visiting with a group of neighbours. They had dinner parties, picked saskatoons, or went to the lake.
Josephine enjoyed helping at the Handhills Turkey Supper and Stampede, and Elmer School Christmas Concert.
Josephine's favourite activity was staying home, loving it when neighbours dropped in to visit, have coffee and taste her baking.
Josephine really enjoyed playing cards with the Handhills Whist Club in the 70s.
As Anton slowed down and did less, Josephine continued to farm with her son. She has farmed until now, still running the combine last fall.
Josephine loved her grandchildren and enjoyed visiting and loved to get together on birthdays and holidays. She was especially tickled when they started helping seed and harvest.
We love you Mom, Grandma and Ohma.
Prayers for Josephine will be held 7:00 p.m., Monday,
August 19, 2019 at St. Georges Catholic Church, 608 1st Street West, Hanna.
Family and friends are invited to pay respects between 10:00 a.m. and 10:45 a.m. on Tuesday, August 20, 2019
at St. Anthony's Catholic Church, 178 3rd Street West, Drumheller, AB.
Funeral will be held at 11:00 a.m. on Tuesday, August 20, 2019 at St. Anthony's Catholic Church, 178 - 3rd Street West, Drumheller, AB with Father Newton Rodriguez officiating. Please join us for lunch immediately following in St. Anthony's Church Hall.
Interment to follow in the Delia Cemetery.
Flowers gratefully declined. Those who wish, memorial donations may be made to the Drumheller and Area Health Foundation, 351 - 9th St. NW, Drumheller, AB T0J 0Y1, because everyone in the Drumheller medical
system - doctors, nurses, and other staff, were so fantastic at caring for Mom. Thank you.
Courtney-Winters Funeral Home in care of arrangements.